Lineup:
Biréli LAGRENE (Guitar), Franck WOLF (Sax), Jean-Marc ROBIN (Drums), Jean-Yves JUNG (Hammond organ)
Born into a traditional manouche Gypsy family in Soufflenheim, Bas Rhin Alsace, France in 1966, Biréli Lagrène showed early promise on guitar and by when by the age of eight he was covering the repertoire of the great guitarist Django Reinhardt, his relatives were already calling him a child prodigy. By his late teens, he was mixing with jazz greats such as Stephane Grappelli and Benny Goodman, and exploring jazz fusion with the likes of bassist Jaco Pastorius. Now he is back with a groovy blues & jazz quartet spiced by a rock sound.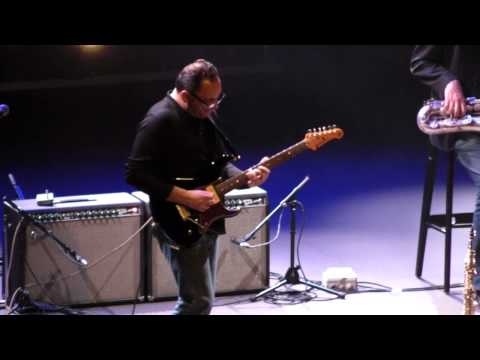 "Blues with a bit of harmony." This is how the artist, in one of these elliptical forms which he has the secret, defines his new music. What does it mean? That after the exciting adventures of Gipsy Project, Bireli Lagrene wants to move towards new horizons? Yes, no doubt. But remember, when he was just coming out of adolescence, our guitarist - whom Django Reinhardt's music taught him early to "go elsewhere" - had already rubbed shoulders with Jaco Pastorius, and other Jack Bruce and Ginger Baker (for occasional reunion of Cream, Biréli replacing Eric Clapton!). This affinity with a more "black" vein (its expression) is therefore not new: it deeply runs through his fibers.
Back to the blues, then. This can at least be understood here in three ways. The rhythm, first (imposing "Jay's" well felt shuffle at the opening of this album), which generously cultivated groove and funky accents ("Captain Ferber").
In the sound, resolutely "electric" (including this "dirty" side, one of the inevitable part of the modern guitar), that also justifies the choice of the formula (sax, hammond organ and drums for the occasion from reinforcements , a privileged caskets of six - exceptional string players, from Wes Montgomery, Jimmy Smith to Tony Williams Lifetime, and Electric Ladyland). Via the theme well, which gives pride to the blue note ("Where's Frankie", "Maybe Tomorrow" ...).
Remains the band: in fact, a combo of friends composed by two members of the "bodyguards" leader, Jean - Yves Jung (organ) and Frank Wolf (sax), longstanding accomplices and talented partners (we know that with such companies Lagrène usually gives the best of himself), joined by drummer Jean - Marc Robin. The repertoire consists essentially of compositions (except "Oleo" and "Liebesleid"). Among them, the title track (the iconic) "Movements" appears as a real gem. This is indeed harmony! Is one of golf's favorite Biréli, and a new kind of blues suddenly reconciling Jean - Sebastien and cotton fields. Wink, mobility, virtuosity, musical intelligence in Lagrène it has both more refined and more palpable.
Who else but him today, on the guitar, is distilling for us such lightness, elegance and constancy: music as happy, in fact?