Jean Luc Ponty – violin, William Lecomte – keyboards,
Linley Marthe – bass, Damien Schmitt – drums
Jean-Luc Ponty is a pioneer and undispute master of violin in the arena of jazz and rock. He is widely regarded as an innovator who has applied his unique visionary spin that has expanded the vocabulary of modern music.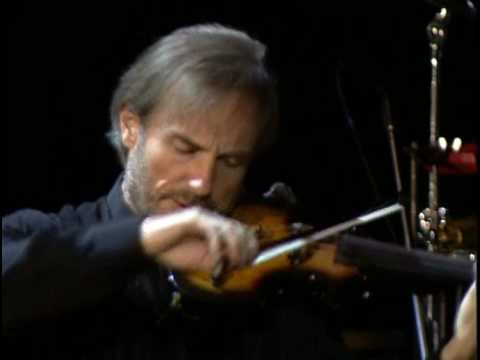 After studying classical violin at the Paris Conservatory, Jean-Luc Ponty turned to jazz in the 60s. Thanks to his revolutionary style he collaborated with some of the best European and American musicians such as Eddy Louiss, Daniel Humair, Niels-Henning-Ørsted Pedersen, John Lewis, Lalo Schifrin, and Quincy Jones. He became the first bebop violinist and U.S. jazz magazine 'Down Beat' created a violin category for him in its critics' poll, until then violin was in the 'miscellaneous instruments' category. His pioneering work on the electric violin in the 70s attracted the attention of pop and rock musicians, he recorded with Elton John and participated to several tours and legendary recordings with Frank Zappa's Mothers of Invention and John McLaughlin's Mahavishnu Orchestra. In 1975 he founded his own band and became one of the most prominent figures of the jazz-fusion movement in the USA, selling millions of albums that all reached the top of the U.S. charts. Ponty's most recent album "The Atacama Experience" is considered as one if his best and to this day Ponty keeps touring with his band around the world.
Ponty also collaborates on occasional projects such as The Rite of Strings with Stanley Clarke and Al Di Meola. In 2011 Ponty joined the mythical American group RETURN TO FOREVER IV with Chick Corea - Stanley Clarke - Lenny White and Frank Gambale for a world tour spanning on 5 continents.
Ponty received the 2007 Jazz Trophy in Germany, the medal of Chevalier de la Legion d'Honneur in France in 2009, the 2011 Lifetime Achievement Awards in Ireland, and the Grand Prix of the Sochi Arts Festival in 2012 in Russia from the hands of world famous classical violist and orchestra conductor Yuri Bashmet.
In 2012 Ponty performed his music with Orchestre Pasdeloup for his 50-year career celebration at the Theatre du Chatelet in Paris, then again with symphony orchestras in Brazil, Russia and Hungary in 2012 and 2013.
In April 2013 Herbie Hancock invited him to perform in Istanbul at "International Jazz Day" for UNESCO. Ponty also founded a new quartet with his daughter, pianist-singer-composer Clara Ponty which performed in France and will appear in Germany in 2014. Ponty also performed with the 89 musicians of the Novosibirsk Philharmonic Orcherstra for the Siberian Christmas Festival.
(Please visit www.ponty.com for more details)