Since taking up beatboxing in 2002, award winning looping artist and World Record Holding beatboxer Shlomo has won global acclaim and worked with some of the biggest names in music including Bjork, Damon Albarn, Jarvis Cocker, Martha Wainwright, Imogen Heap, The Specials, DJ Yoda and Bill Bailey.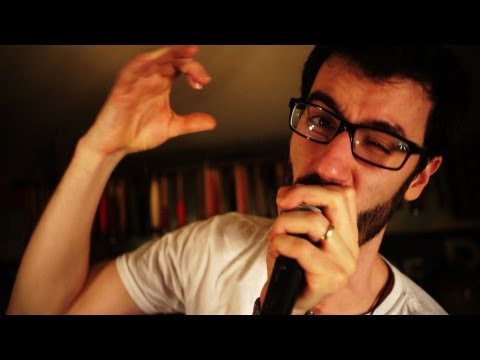 In the process he has consistently pushed the boundaries of beatboxing, bringing the art form to new and unexpected audiences through such diverse collaborations.
Shlomo's first two solo shows sold out every single ticket of his Edinburgh runs in 2011 and 2012, gaining 5 star reviews and a loyal following.
Raised on a strict childhood diet of orchestral percussion and jazz drums, Shlomo instinctively began making vocal music as a small child. He first found critical acclaim as a beatboxer aged 18 when he began touring with the award winning multinational hip hop group Foreign Beggars, and was named the "Harry Potter of beatboxing" by BBC Radio 1's Tim Westwood. This was designed as a compliment, we think – either way it wasn't long until Shlomo was collaborating with Icelandic pop queen Bjork on her all vocal album Medulla in 2004.
Shlomo's performance on BBC2's Later with Jools Holland was seen by Emily Eavis who invited him to host a 2-hour collaborative extravaganza at Glastonbury Festival. Shlomo won the first World Loopstation Championships in LA where he defeated finalists from 12 other countries.
Shlomo's fascinating live performance technique utilizes a loop pedal to sample his voice on the fly, enabling him to create and rework a huge range of original songs and well loved classics. His looping performances, including a live performance from Glastonbury on BBC2 and an appearanceon BBC1 with Jonathan Ross have gained him praise from Bill Bailey, Phil Jupitus and Lauren Laverne, and his videos on YouTube have received millions of views.
Quotes:
"The kid's good. Jaw-droppingly good." The Guardian "Master of the fine art of beatboxing" The Independent "He's like a one-man Hollywood action film soundtrack" The Times "Slick theatrics and Soulful vocal gymnastics" Evening Standard "A fascinating contrast between his extraordinary willowy, soft-edged charm and his dangerously energised performing" The Telegraph "The Prince of Fringe Beatboxers" Edinburgh Festival Magazine