Please note due to a private hire, doors at 9pm on Wednesday 8 February.
USUAL TIMINGS: Doors open 6pm, closed 3am, Music starts at 9:30 PM (£6 after 8pm, £8 after 10pm) M.U. and Members FREE entry
LINE UP
11th January: ANDY DAVIES trumpet, FERG IRELAND bass, NIGEL PRICE guitar, SALEEM RAMAN drums
18th January: ANDY DAVIES trumpet, NIGEL PRICE guitar, MARK FLETCHER drums, LORENZO BASSIGNANI bass
25th January: ANDY DAVIES trumpet, BENET MCLEAN piano, TIM THORNTON bass, CHRIS DRAPER drums
FOLLOW THE RONNIE SCOTT'S JAZZ JAM ON FACEBOOK: Upstairs @ Ronnie's Jazz Jam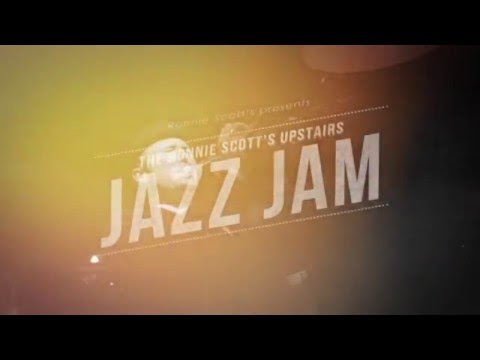 Until recently, this weekly session was known only to the coolest of jazz heads, but has fast become the most talked about late-night hang in town. Hosted by dynamic young trumpeter, Andy Davies, the Jazz Jam calls to mind the spirit of the hard-swinging, exuberant jazz joints of 50's New York. An informal jam featuring a wealth of talent from tomorrow's stars to today's big names that drop by for an off-duty blowing session.
The House Band played with:
Andy Davies: Nigel Kennedy, Mark Murphy, Ian Shaw, Soweto Kinch, James Pearson and Ronnie Scott's Allstars, Lea DeLaria, Philarmonia Orchestra, JSonics, Simians of Swing, National Youth Brass Band of Wales, National Youth Jazz Orchestra, Nigel Price, Benet McLean, Alex Garnett, Mark Fletcher, Steve Brown and many more.
Benet McLean: Omar, Yehudi Menuhin, Dennis Rollins, Sir Simon Rattle, Dave O'Higgins, Ty, Steve Williamson, Carleen Anderson, Jean Toussaint, Tommy Smith, Cleveland Watkiss, Yellow Station Blue, Phillip Bent, Orphy Robinson, Kevin Haynes' Groupo Elegua, Roachford, Faithless (Maxi Jazz), Loose Tubes, Don Lusher and many more.
Artist website: http://www.benetmclean.com/
Saleem Raman: David Gilmore (Pink Floyd), Duncan James (Blue) & Lilly Allen to Kaidi Tatham (Bugz in the Attick) & Nick Mulvey (Portico Quartet) to name a few.
Artist website: http://thefontanelles.co.uk/sample-page/
Tim Thornton: occasional member of the Ronnie Scott's Allstars, Steve Fishwick, Gilad Atzmon, Brandon Allen, Rob Barron, Jay Phelps, Dave O'Higgins, Ivo Neame, James Torme, Sian Evans, Heidi Vogel, Noemi Nuti, Joe Pisto, Julian Bliss, Ronnie Scott's Late Late Show host and many more.
Artist website: http://www.timthorntonbass.com/