Booking now closed, a few tickets still left on the door.
Till Brönner tp., voc. Jasper Soffers (Keys), Christian v. Kaphengst (Bass), Magnus Lindgren (Sax & Co.),
David Haynes
(Drums)
Calling Till Brönner the new aspiring German trumpet talent is obsolete, since he has sold more records than any other German jazz musician. He plays big time now and is well known in the New York jazz circuit, which itself is top of the crop." ME SOUNDS/Rolling Stone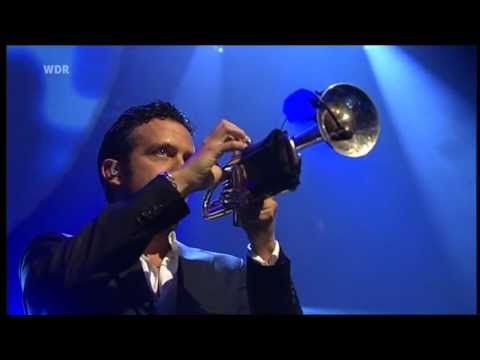 Born in 1971 in Viersen, Germany and raised in Rome, Italy, Till experienced his outset with the help of Louis Armstrong and Charlie Parker: "Hearing Bebop for the first time, Charlie Parker; that set the whole thing off for me. I was 13 years old and it was an almost erotic sensation. I thought that it was indecent. The music was like a woman having a go at me." Till stems from a family of musicians; after a well-protected childhood, he enjoyed a classical education followed by a study of the jazz trumpet at Cologne's Music Academy. After only three semesters he convinced the leader of Berlin's "RIAS-Tanzorchester" at an audition, taking his first hurdle at the age of 20.

Only two years later, he raised more than one eyebrow with "Generations of Jazz", being both a classic mainstream recording and his debut as a bandleader. By the time he released "German Songs", his third album of old German film songs, arranged for jazz quartet and classical orchestra, he was the talk of the trade.

- in 2008 he is nominated for a Grammy Award in the category "Best Classical Crossover Album" for "The Jazz Album", an album he produced with classical bass-baritone singer Thomas Quasthoff

- for "The Christmas Album" he wins the 2008 Echo Award in the jazz category

- as a celebration of "50 years of bossa nova" he releases on September 19, 2008 his new album "Rio" recorded with stellar guests (such as Annie Lennox, Milton Nascimento, and Aimee Mann)

- in 2009 he is nominated for a Grammy Award in the category "Best Jazz Instrumental Solo" for his solo on the album "The Standard" made by the legendary vocal ensemble Take 6

- for his album "Rio" he wins the 2009 Echo Award in the jazz category (it is his third consecutive win in this category)
Support: The Ronnie Scotts All Stars
The Ronnie Scott's All Stars are comprised of some of the greatest talents on the U.K scene, including some of our most regular performers James Pearson (piano), Sam Burgess (bass) and Pedro Segundo (drums)
James Pearson:-
Musical Director at Ronnie Scott's and the owner of a ferocious piano technique coupled with a sense of musicality rarely heard, James Pearson is one of the most exciting musicians to have emerged from the U.K in the last 25 years. After working with him, the late jazz legend Sir John Dankworth declared: "James Pearson is an exceptionally gifted artist. His masterful playing makes him head and shoulders above the rest of his contemporaries. He shows signs of true greatness".
Sam Burgess:-
Double Bass Despite only being in his early 30's, already Sam is a stalwart of the UK jazz scene. As well as appearing on numerous film soundtracks such as 'Bridget Jones's Diary' and 'Hannibal'. Sam's thumping, pounding, relentlessly driving bass lines have been heard accompanying the likes of Bob James, Billy Kilson, Gary Novak, Joe Lock, Dave Kekowski, Guy Barker, Dave O'Higgins, Pete King, Gareth Williams, Claire Martin, Jim Mullen, Alan Barnes, Tim Whitehead, John Horler, Gwyneth Herbert, John Dankworth, The BBC Big Band and Robbie Williams.
Pedro Segundo:-
At 22 years old Pedro Segundo, Portuguese drummer joins the James Pearson Trio at Ronnie Scott's Jazz Club.
Born and raised in Lisbon, picked up the drums seriously at the age of eight starting studying classical percussion a year later. In June 2011 he graduates from Guildhall School of Music and Drama in Timpani and Classical Percussion. His musical ability combines a blend of styles creating a unique sound on the drum set. He has played regularly with Dennis Rollins, Femi Temowo, Mário Franco, Cleveland Watkiss and many other artists touring in festivals all around the globe.
Other regular performers include:
Dave Ohm (drums), Natalie Williams (vocals), Alex Garnett (sax), Nigel Price (guitar), Steve Rushton (drums), Polly Gibbons (vocals), Alistair White (trombone), Gary Baldwin (hammond), Al Cherry (guitar), Matt Home (drums), Alan Barnes (sax), Ralph Salmins (drums), Arnie Somogyi (bass), Mark Smith (bass), James Nisbet (guitar), Pete Long (sax), Gerard Presencer (Trumpet), Dave O'Higgins (sax), Alec Dankworth (bass), Steve Fishwick (trumpet) and others...
To find out more, please go to:
www.myspace.com/thejamespearsontrio