Booking now closed, a few tickets still left on the door.
Please note on tuesday 24th March, we will be closing the doors after the main set at 10pm (owing to a late night private event)
BIRELI LAGRENE - guitar, HONO WINTERSTEIN - guitar,, FRANCK WOLF - sax, WILLIAM BRUNARD - double bass
Born into a gypsy family, French guitarist Biréli Lagrène started playing the guitar at the age of four and by the age of eight was performing material from his idol Django Reinhardt earning him the title of child prodigy. Lagrène went on to mix with some of the most distinguished jazz musicians on the international scene including Stéphane Grappelli, Benny Goodman, Benny Carter and Larry Coryell and explored jazz fusion with bassist Jaco Pastorius with whom he toured Europe. For this string of shows, Lagrène is back performing his classic gypsy sound with a fiery quartet. Described by Lagrene as "Blues with a bit of harmony" , he performs with his electric band featuring Hono Winterstein on guitar, Franck Wolf on sax and William Brunard on double bass.
BIOGRAPHY
Born into a traditional manouche Gypsy family in Soufflenheim, Bas Rhin Alsace, France in 1966, Biréli Lagrène showed early promise on guitar and by when by the age of eight he was covering the repertoire of the great guitarist Django Reinhardt, his relatives were already calling him a child prodigy. By his late teens, he was mixing with jazz greats such as Stephane Grappelli and Benny Goodman, and exploring jazz fusion with the likes of bassist Jaco Pastorius. Now he is back with his classic gypsy sound with a fiery quartet.
"Blues with a bit of harmony." This is how the artist, in one of these elliptical forms which he has the secret, defines his new music. What does it mean? That after the exciting adventures of Gypsy Project, Bireli Lagrene wants to move towards new horizons? Yes, no doubt. But remember, when he was just coming out of adolescence, our guitarist - whom Django Reinhardt's music taught him early to "go elsewhere" - had already rubbed shoulders with Jaco Pastorius, and other Jack Bruce and Ginger Baker (for occasional reunion of Cream, Biréli replacing Eric Clapton!). This affinity with a more "black" vein (its expression) is therefore not new: it deeply runs through his fibers.
Back to the blues, then. This can at least be understood here in three ways. The rhythm, first (imposing "Jay's" well felt shuffle at the opening of this album), which generously cultivated groove and funky accents ("Captain Ferber").
In the sound, resolutely "electric" (including this "dirty" side, one of the inevitable part of the modern guitar), that also justifies the choice of the formula (sax, hammond organ and drums for the occasion from reinforcements , a privileged caskets of six - exceptional string players, from Wes Montgomery, Jimmy Smith to Tony Williams Lifetime, and Electric Ladyland). Via the theme well, which gives pride to the blue note ("Where's Frankie", "Maybe Tomorrow" ...).
Remains the band: in fact, a combo of friends composed by two members of the "bodyguards" leader, Jean - Yves Jung (organ) and Frank Wolf (sax), longstanding accomplices and talented partners (we know that with such companies Lagrène usually gives the best of himself), joined by drummer Jean - Marc Robin. The repertoire consists essentially of compositions (except "Oleo" and "Liebesleid"). Among them, the title track (the iconic) "Movements" appears as a real gem. This is indeed harmony! Is one of golf's favorite Biréli, and a new kind of blues suddenly reconciling Jean - Sebastien and cotton fields. Wink, mobility, virtuosity, musical intelligence in Lagrène it has both more refined and more palpable.
Who else but him today, on the guitar, is distilling for us such lightness, elegance and constancy: music as happy, in fact?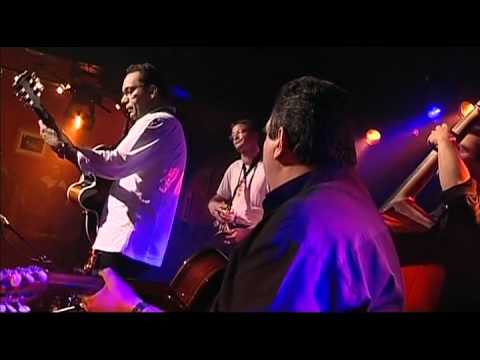 Support: The Ronnie Scotts All Stars
The Ronnie Scott's All Stars are comprised of some of the greatest talents on the U.K scene, including some of our most regular performers James Pearson (piano), Sam Burgess (bass) and Pedro Segundo (drums)
James Pearson:-
Musical Director at Ronnie Scott's and the owner of a ferocious piano technique coupled with a sense of musicality rarely heard, James Pearson is one of the most exciting musicians to have emerged from the U.K in the last 25 years. After working with him, the late jazz legend Sir John Dankworth declared: "James Pearson is an exceptionally gifted artist. His masterful playing makes him head and shoulders above the rest of his contemporaries. He shows signs of true greatness".
Sam Burgess:-
Double Bass Despite only being in his early 30's, already Sam is a stalwart of the UK jazz scene. As well as appearing on numerous film soundtracks such as 'Bridget Jones's Diary' and 'Hannibal'. Sam's thumping, pounding, relentlessly driving bass lines have been heard accompanying the likes of Bob James, Billy Kilson, Gary Novak, Joe Lock, Dave Kekowski, Guy Barker, Dave O'Higgins, Pete King, Gareth Williams, Claire Martin, Jim Mullen, Alan Barnes, Tim Whitehead, John Horler, Gwyneth Herbert, John Dankworth, The BBC Big Band and Robbie Williams.
Pedro Segundo:-
At 22 years old Pedro Segundo, Portuguese drummer joins the James Pearson Trio at Ronnie Scott's Jazz Club.
Born and raised in Lisbon, picked up the drums seriously at the age of eight starting studying classical percussion a year later. In June 2011 he graduates from Guildhall School of Music and Drama in Timpani and Classical Percussion. His musical ability combines a blend of styles creating a unique sound on the drum set. He has played regularly with Dennis Rollins, Femi Temowo, Mário Franco, Cleveland Watkiss and many other artists touring in festivals all around the globe.
Other regular performers include:
Dave Ohm (drums), Natalie Williams (vocals), Alex Garnett (sax), Nigel Price (guitar), Steve Rushton (drums), Polly Gibbons (vocals), Alistair White (trombone), Gary Baldwin (hammond), Al Cherry (guitar), Matt Home (drums), Alan Barnes (sax), Ralph Salmins (drums), Arnie Somogyi (bass), Mark Smith (bass), James Nisbet (guitar), Pete Long (sax), Gerard Presencer (Trumpet), Dave O'Higgins (sax), Alec Dankworth (bass), Steve Fishwick (trumpet) and others...
To find out more, please go to:
www.myspace.com/thejamespearsontrio