Booking now closed, a few tickets still left on the door.
Line-up: Natacha Atlas - vocals; Louai Henawi - lead flute, Samy Bishai - violin, Alcyona Mick - piano, Ivan Hussey - cello, Aly Abdel-Alim - percussion, Vasilis Sarikis - drums/percussion, Andy Hamill - bass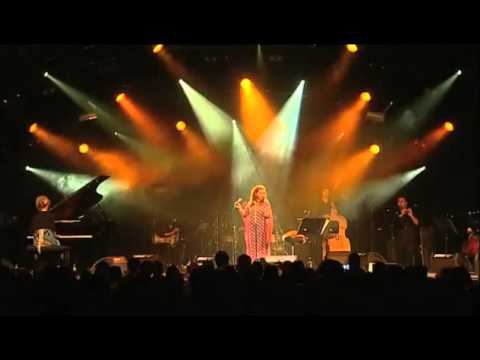 Born in Brussels of Anglo-Egyptian parentage, Atlas's multi-cultural background and experiences have helped shape her trademark sound which seamlessly bridges musical and culture divides.

Exploding onto the scene in the early 1990s, Atlas rapidly gained widespread recognition for her successful pioneering meld of Western and Eastern musics, specifically, her use of cutting-edge electronic beats with Arabic melodies and instrumentation. After several releases with Nation Records and a string of albums fronting the seminal Transglobal Underground, she debuted with Diaspora (1994). Atlas then followed with Gedida (Beggar's Banquet) which won the Victoire Award; the rest, as they say, is history.

Her last 2 albums, the critically-acclaimed Ana Hina (2007) and Mounqaliba (2010), have represented a radical evolution of Atlas's artistic horizons. On both, Atlas combines her hallmark synthesis of Western and Middle Eastern musical traditions and culture with classical and jazz influences and sounds. Indeed, on Mounqaliba, she pushed the boundaries further, producing an album lavishly orchestrated by her long-time collaborator Samy Bishai.

In addition to her own projects, Atlas has worked extensively with an eclectic group of distinguished artists across a wide variety of musical genres including: pop (Peter Gabriel, Sinead O'Connor, Indigo Girls, and Jean-Michel Jarre); classical (Nigel Kennedy, Jocelyn Pook); jazz (Nigel Kennedy); film scores (Danny Elfman, Clint Mansell, David Arnold, Harry Gregson-Williams, Rachel Portman); and world music (Nitin Sawhney, Transglobal Underground, Talvin Singh).

Atlas's distinctive voice has also featured on a wide number of soundtracks and scores for both films and video games, including Kingdom of Heaven (2005), The Hulk (2003), Sex and the City 2 (2010), Stargate (1994), The Truth About Charlie (2002), The World Is Not Enough (1999), Die Another Day (2002), Brick Lane (2007), Sahara (2005), I Can't Think Straight (2008), La Fille Sur Le Pont (1999), Whatever Lola Wants (2007), Bin-Jip (a.k.a. 3-Iron, English title) (2004); and Heavenly Sword (2007); Grand Theft Auto: Liberty City Stories (2005); Project Gotham Racing 4 (2007).

Currently, with Bishai, Atlas is co-composing the music for a forthcoming ballet (very loosely inspired by One Thousand and One Nights) for the internationally-renowned French choreographer, Angelin Preljocaj.