Enzo Zirilli, Ross Stanley and Fabio Zeppetella present music from guitarist Zeppetella's current release, 'Handmade'.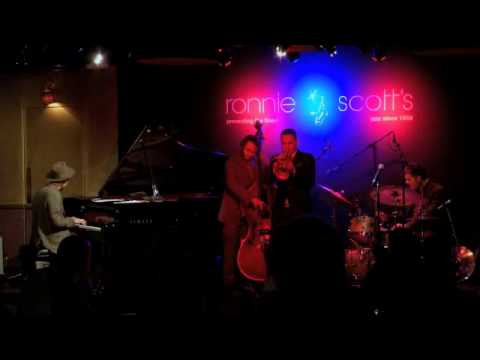 "We haven't had anything like this in New York for over twenty years". Wynton Marsalis
The Ronnie Scott's Late Late Show!
MONDAY - THURSDAY 11pm-3am
FRIDAY - SATURDAY 1am-3am
ENTRY ON THE DOOR or PREBOOKING AVAILABLE NOW (MON - THUR ONLY)
£10 Entry, £5 Students (with ID), FREE entry to MU, Club members and main show ticket holders
In 1959, saxophonist Ronnie Scott opened the door to a small basement club in London's west end where local musicians could jam. Today, it is one of the world's most famous jazz clubs attracting packed houses and the biggest names in jazz and popular music and Ronnie Scott's welcoming, stylish setting is also home to London's coolest late night hang.
Each night Monday to Saturday, after the main act, Ronnie Scott's presents the Late Late Show, where some of the UK's finest jazz talents take to the stage for a late night blowing session.
ENZO ZIRILLI
Influences running from Charlie Christian, Wes Montgomery, 60's be-bop and hard-bop, to poetry, funk, R&B and bossa nova and contemporary funk. Enzo Zirilli, is considered one of the most versatile and creative drummer/percussionist of the last generations, having worked all around the world with great musicians of the Jazz, World-music and Pop scene such as Enrico Pieranunzi, Antonio Forcione, Tom Harrell, Bob Mintzer, Dado Moroni, Marco Pereira, Steve Grossman, Gloria Gaynor among others.
"Enzo Zirilli is an incredible musician" – Gilad Atzmon. "...a crazy poet on the Drums.." – Manfred Papst, best European Jazz Journalist 2006. "..wiz drummer!" – Antonio Forcione.
FABIO ZAPATELLA

Fabio Zeppetella is a famous Italian guitarist , self-taught.
Active and successful musician national and international performing concerts all over the world and has numerous collaborations, including: Area 2, Noisemaker Roberto Gatto, Hein Van De Geyn and Aldo Romano, Kenny Wheeler, Emmanuel Bex and Roberto Gatto, Lee Konitz, Steve Grossman, Enrico Rava, Tom Harrell, Jimmy Owens, John Clarke, Lincoln Goines, Kim Plainfield, Ernst Rejseger.
He participated in numerous international festivals such as "Umbria Jazz" (87/88/89/95 years) Rome (87/92/96/97 years) Ravenna (91), Milan (88), Salerno (90), Palermo ( 90/92), Tokyo, Osaka, Kyoto, Lugano, Paris, Singapore, Luxembourg, the Abu Dhabi International Jazz Festival.
On 30/05/2000 he won the European jazz guitar soloist held by the Orchestre National du Jazz in Paris.
He currently plays and collaborated with guitarist Umberto Fiorentino and with the greatest exponents of Italian jazz.
ROSS STANLEY
Ross is one of the UK's top jazz pianists - constantly in demand for his flowing creative and lyrical playing. His soloing is profoundly steeped in complex harmonic tension and release but always serves the music and is universally revered by both fellow musicians and the wider listening public alike.
Ross Stanley was born on the 2nd May 1882 in Frimley. He began having piano lessons at the age of 4. At the age of 13, he was awarded an organ scholarship to Marlborough College. Upon leaving Marlborough, Ross was invited to study for his music degree at several renowned institutions including Trinity College of Music, Guildhall School of Music and a scholarship to Berklee College of Music in the USA. However, he decided to stay in London and completed a BMUS in classical and jazz piano at Guildhall in 2004. Since leaving, Ross's musical skills have kept him in high demand, seeing him playing with jazz names such as Will Vinson, Dennis Rollins, Guy Barker, Ian Shaw, Liane Carroll, Stan Sulzman, SteveArguelles, John Paracelli, Bobby Wellins, Clark Tracey as well as being a regular member of the Jim Mullen Organ trio and the Jaqui Dankworth Band and performing in many small and large ensembles - including Nostalgia 77 Octet and The Heritage Orchestra.