Booking now closed, a few tickets still left on the door.

Swing into Spring! With Kai Hoffman and Kai's Cats

Kai Hoffman vocals, Simon Whiteside piano, Simon Little bass, Steve Rushton drums, Leo Richardson saxes, Rob Greenwood trumpet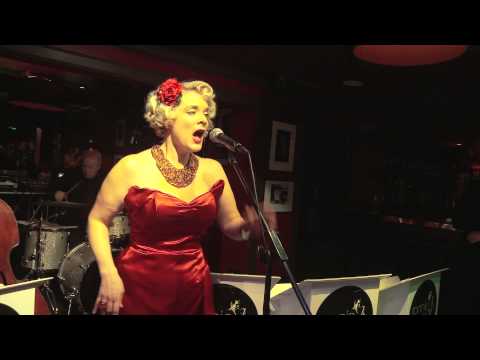 Birdland, NY, "[Kai] is the whole package from head to toe" - Jazzwise Magazine Ronnie Scott's own Queen of Jive Kai Hoffman brings you this vintage nostalgia show featuring her favourite 1950s rhythm and blues, swing and rock and roll. Get ready to tap your toes, guys and gals - you'll be jivin' in the aisles to Kai's selection of rockin' rhythms! With her own inimitable style, Kai Hoffman brings you a fun-filled afternoon with a dash of exotica and just a peppering of kitsch, with great rockin' tunes, beautiful slow numbers and Kai's own originals.
A favourite with discerning lindy hoppers, Kai Hoffman and her band have opened for celebs from Joss Stone to the cast of Red Dwarf with diplomats and royalty in between. Originally from Boston, Mass., USA, Kai has been a resident performer here at Ronnie Scott's for over seven years with her own vintage club night, Live and Let Jive - called "London's coolest hepcat hangout" by The Stage, and awarded Critic's Choice by Time Out London.
Kai Hoffman is a versatile, vivacious performer, equally at home in a vast variety of venues ranging from the Elgar Room of the Royal Albert Hall to the Rome Rockabilly Festival, the Blue Note Milano to the Sheraton Hotel in Bangladesh. Kai recently made her New York City debut and is gearing up for her first Edinburgh Festival in 2015. Featured in countless magazine articles and on radio, including Time Out London, The Stage, Classic Car Magazine, BBC Radio and Jazz FM, Kai Hoffman is sponsored by fashion brand Vivien of Holloway. "One of the finest vocalists and performers around on the scene today." - Ray Gelato, for London Jazz News "..a TRUE entertainer, and we don't see so many of those anymore!" - Jim Caruso, Birdland, NY, NY "An insatiable joie de vivre rare in these cynical times..." - Stephen Graham, Marlbank