Booking now closed, a few tickets still left on the door.
The trio, who received two Grammy awards as part of the quartet formed by one of the biggest living geniuses of jazz, Wayne Shorter, will perform tonight with their new project "Children of the Light" project. The line-up comprising DANILO PEREZ on piano, JOHN PATITUCCI on bass and BRIAN BLADE on drums.
"… but there are still amazing musicians like Danilo Perez, who plays piano with Wayne Shorter's quartet. He is not afraid of anything." - Herbie Hancock
Pianist, composer, educator and social activist, Danilo Pérez is among the most influential and dynamic musicians of our time.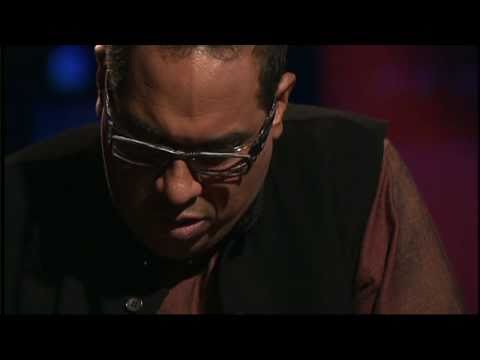 "The Pérez trio truly plays with a kind of ESP that can't be taught or copied – with subtle shifts of rhythm, dynamics, harmony, phrasing – you can trace it back to Dizzy through Wayne Shorter and Miles Davis..." TORONTO JAZZERS
"A band of spellbinding intuition, with an absolute commitment to the spirit of discovery, it has had an incalculable influence on the practice of jazz in the 21st century." THE NEW YORK TIMES
"Danilo Pérez has all of the attributes of a performer, conductor, impresario, and purveyor of musical expression greatly needed in these uncertain times. His effort to bring to the world a beacon of hope and inspiration ... is a prime example of confidence in a future laden with cornucopian gifts for all humanity." WAYNE SHORTER
Grammy award winner DANILO PÉREZ is among the most influential and dynamic musicians of our time. In just over a decade, his distinctive blend of Pan-American jazz (covering the music of the Americas, folkloric and world music) has attracted critical acclaim and loyal audiences.
Danilo's abundant talents and joyous enthusiasm make his concerts both memorable and inspiring. Whether leading his own ensembles or touring with renowned jazz masters (Wayne Shorter, Roy Haynes, Steve Lacy), Danilo is making a decidedly fresh imprint on contemporary music, guided, as always, by his love for jazz.

He has led his own groups since the early '90s, and as bandleader has earned three Grammy® nominations for his ebullient and innovative recordings. Motherland, was nominated for two Grammy® Awards for "Best Latin Jazz Album," and also garnered his third win for "Best Jazz Album" from the prestigious Boston Music Awards. Motherland was named (as were his previous four releases) among the best albums of the year by such publications as the New York Times, Los Angeles Times, Chicago Tribune, San Diego Tribune, Billboard and Jazz Times. In 2002, he received a nomination from the Jazz Journalists Association for "Pianist of the Year."
Currently, Perez serves as UNESCO Artist For Peace, Artistic Director of the Berklee Global Jazz Institute, and Artistic Director of the Panama Jazz Festival. In previous years, he served as Goodwill Ambassador to UNICEF and Cultural Ambassador to the Republic of Panama.
Support: The Ronnie Scotts All Stars
The Ronnie Scott's All Stars are comprised of some of the greatest talents on the U.K scene, including some of our most regular performers James Pearson (piano), Sam Burgess (bass) and Pedro Segundo (drums)
James Pearson:-
Musical Director at Ronnie Scott's and the owner of a ferocious piano technique coupled with a sense of musicality rarely heard, James Pearson is one of the most exciting musicians to have emerged from the U.K in the last 25 years. After working with him, the late jazz legend Sir John Dankworth declared: "James Pearson is an exceptionally gifted artist. His masterful playing makes him head and shoulders above the rest of his contemporaries. He shows signs of true greatness".
Sam Burgess:-
Double Bass Despite only being in his early 30's, already Sam is a stalwart of the UK jazz scene. As well as appearing on numerous film soundtracks such as 'Bridget Jones's Diary' and 'Hannibal'. Sam's thumping, pounding, relentlessly driving bass lines have been heard accompanying the likes of Bob James, Billy Kilson, Gary Novak, Joe Lock, Dave Kekowski, Guy Barker, Dave O'Higgins, Pete King, Gareth Williams, Claire Martin, Jim Mullen, Alan Barnes, Tim Whitehead, John Horler, Gwyneth Herbert, John Dankworth, The BBC Big Band and Robbie Williams.
Pedro Segundo:-
At 22 years old Pedro Segundo, Portuguese drummer joins the James Pearson Trio at Ronnie Scott's Jazz Club.
Born and raised in Lisbon, picked up the drums seriously at the age of eight starting studying classical percussion a year later. In June 2011 he graduates from Guildhall School of Music and Drama in Timpani and Classical Percussion. His musical ability combines a blend of styles creating a unique sound on the drum set. He has played regularly with Dennis Rollins, Femi Temowo, Mário Franco, Cleveland Watkiss and many other artists touring in festivals all around the globe.
Other regular performers include:
Dave Ohm (drums), Natalie Williams (vocals), Alex Garnett (sax), Nigel Price (guitar), Steve Rushton (drums), Polly Gibbons (vocals), Alistair White (trombone), Gary Baldwin (hammond), Al Cherry (guitar), Matt Home (drums), Alan Barnes (sax), Ralph Salmins (drums), Arnie Somogyi (bass), Mark Smith (bass), James Nisbet (guitar), Pete Long (sax), Gerard Presencer (Trumpet), Dave O'Higgins (sax), Alec Dankworth (bass), Steve Fishwick (trumpet) and others...
To find out more, please go to:
www.myspace.com/thejamespearsontrio