Booking now closed, a few tickets still left on the door.
Marius Neset, tsax, ssax, compositions, Espen Berg, piano, Petter Eldh, bass, Gard Nilssen, dr, Jova Pavlovic, acc, Hanna Paulsberg, tsax, Peter Fuglsang, asax, Eirik Hegdal, sax, Erik Eilertsen, trumpet, Eivind Lonning, trumpet, Oyvind Brakke, trombone, Erik Johannessen, trombone, Daniel Herskedal, tuba, David Solheim, sound design
"Marius Neset and Trondheim Jazz Orchestra played the best concert ever… never has there been so many superlatives for someone supposed to describe the concert in words. But this can't be described in words, only be experienced." Roald Helgheim, Dagsavisen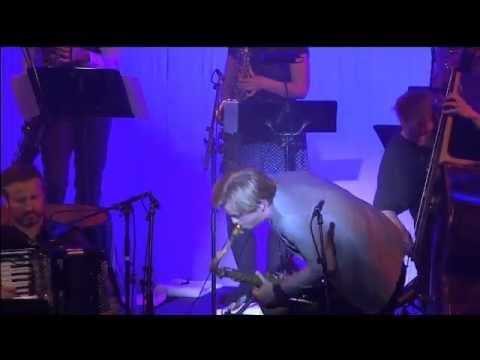 The Trondheim Jazz Orchestra is widely recognised as one of the most important and creative jazz ensembles in Europe and, since its formation in 1999, has seen some of Norway's most famous jazz musicians pass through its ranks. With a flexible line up that changes from project to project, the ensemble has worked with such international luminaries as Chick Corea, Pat Metheny, Stian Westerhus, Joshua Redman, Erlend Skomsvoll and Ståle Storløkken.
In the summer of 2014 they will be presenting their newest and perhaps most highly acclaimed project featuring the sensational Norwegian born/Copenhagen based saxophonist and composer Marius Neset who, since releasing his debut album Golden Xplosion in April 2011, has become one of the most talked about newcomers on the European jazz scene. Described by Terje Mosnes (Dagbladet) as "the most talented Norwegian saxophonist since Jan Garbarek," his performances showcase exemplary technique, energetic creativity, imagination and virtuosity on tenor and soprano saxophones, as well as his brilliance as a composer of intricate, compelling music.
For this project, Neset takes the reins as artistic director of The Trondheim Jazz Orchestra and together they perform a range of work written and recorded by the saxophonist and expanded to fit the 11-piece ensemble.
QUOTES:
"Marius Neset got Trondheim Jazz Orchestra to exceed themselves. That's a rare achievement […] The concert was a success from the beginning to the end […] Neset is a musician with a rare energy, that infected all the 11 other musicians in the band. He played a lot of amazing solos... The highlight of Molde Jazz so far." Trygve Lundemo, Adresseavisen
"The Wizard from Os … Neset is a composer that writes complex music, which the musicians played really great" Jan Granlie, Jazznytt
"The concert was full of high expectations. These expectations where fulfilled, and more than that. […] This concert gave goose bumps […] Neset delivers musically, compositionally and choreographes on a high international level. This concert will go down in the history books as one of the classic ones." Jan Inge Tangen, Fire Flate