Booking now closed, a few tickets still left on the door.
Songs from the legendary American jazz singer Ella Fitzgerald
As a solo jazz singer Barbara Jay has shared the billing at Ronnie Scott's Club with Horace Silver- Pharoah Sanders- Elvin Jones and Dave Holland. She also appears in Cabaret on cruise ships.

In 1970 she was chosen to sing with the legendary Benny Goodman with whom she appeared at many of the major
European cities ie. Paris, Milan, Copenhagen, Zurich etc.

In 1993 Barbara devised the very successful " Ella Fitzgerald Songbook" show which has appeared at major venues and Festivals throughout Britain and also with her own quartet at the "Pizza on the Park" Knightsbridge.

"Barbara Jay is one of our finest Jazz singers and is acclaimed by audiences in venues, Festivals and Jazz clubs around the British Isles and in deed throughout Europe ".......... Sheila Tracy.. BBC Radio

"Barbara has been given the gift of a perfect voice, something which no amount of training can produce if the basic vocal equipment is not there. Add to this, almost perfect phrasing and great style and you have some idea of how good the lady is.... " world class" ....... Larry O'Neil. Jazz News

"Barbara Jay is a marvel... her diction absolutely flawless, intonation impeccable, tone having just that crackle of authority needed to project the swingers, then the ballads delivering a velvety caressing quality " ......Crescendo International...
In 2005 Tommy was awarded a silver medal by "The City of London Musicians" for his distinguished career in British Jazz.... In the world of saxophone playing, Tommy has been renowned and respected throughout his career.
He joined the great Ted Heath Band when he was 20 years old. After five years he left to further his solo playing appearing at all the major London jazz clubs. He also played with the famous Stan Kenton Band when it came toEngland. and also was a member of the Jack Parnell ATV band for many years. in 1998 he became the leader of the Pizza Express All Stars whichappeared at many Jazz Festivals as well as the Pizza in Dean Street. and as Humphrey Lyttelton once quoted " Tommy Whittle is a national treasure"
Joan Viskant is one of the rare breed of singers – a musician's musician. 'She's fantastic' says composer Mike Stoller of the famous composing duo Lieber & Stoeller.
Corky Hale (jazz harpist, pianist, and Billy Holiday's accompanist) agrees. Composer Alan Bergman says "I listen to her all the time".
Joan Viskant own trio and quartet are popular fixtures on the jazz circuit and on radio. She has been very much in demand for film, television, and commercial work- highlights include appearing in 'The Roman Spring of Mrs. Stone', 'Titanic', and preparing the material for Jane Horrocks in 'Little Voice'.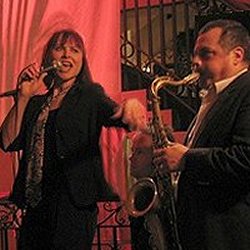 Joan Viskant has appeared at a number of international festivals with artists such as Emmy Award winner John Altman and his big band (with whom she collaborated on her acclaimed second album), The Cotton Club Orchestra and the Blue Devils with Keith Nichols, and the Giants of Jive. Joan Viskant performs the 'Ella Fitzgerald Songbook Show' with Barbara Jay, Tina May and Lee Gibson. She has recently toured the country with Pete Long (Ronnie Scott's Big Band) and his Benny Goodman Big Band.
Joan Viskant sings regularly with virtuoso American composer/arranger/reed player
Jeff Darrohn and his saxophone group SAXON
. Tommy Whittle.. Tenor sax Sean Whittle.. Piano Matt Ridley.. Bass Bobby Worth.. Drums