Booking now closed, a few tickets still left on the door.
Two performances per night for what is set to be the hottest Christmas Show in town... be sure to book early to avoid disappointment!
Show Times:
1st house: Doors 5.30pm, Support 6.15pm, Motown Revue: 7.30-8.45, Doors Close 9pm. 2nd house: Doors 9.30pm, Motown Revue: 10.15-11.30pm, Late Late Set: Midnight-3am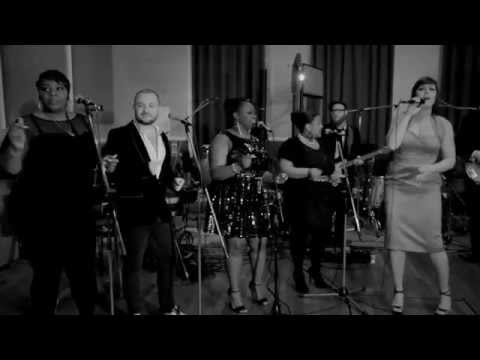 As a tribute to some of the great artists that have recorded on Motown Records and the perfect show for your Christmas Celebrations, Natalie Williams and her Soul Family Band are back! They will be playing a selection of some of the best songs to come out of the Motown era, featuring the music of Smoky Robinson, Martha and The Vandellas, Gladys Knight, Marvin Gaye, The Supremes, The Jackson 5 and of course Stevie Wonder.
Joining her on stage will be her fantastic 10 piece band featuring 3 other vocalists, Brendan Reilly, Sharlene Hector and Tony Momrelle, who regularly bring the house down at the monthly Soul Family Sundays sessions.
A Short introduction to Motown Music
The year 1959, seemed to be a magical year. Not only was it the birth of the world renowned jazz club, Ronnie Scotts, or the making of one of the most influential jazz albums ever, 'Kind of Blue', but it was also the year Motown Records was founded by Berry Gordy.
Motown played an important role in the racial integration of popular music, as it was the first record label owned by an African American to primarily feature African-American artists who achieved crossover success. In the 1960s, Motown and its soul-based subsidiaries were the most successful proponents of what came to be known as The Motown Sound, a style of soul music with a distinct pop influence.
Support: The Ronnie Scotts All Stars
+ support tonight: The Ronnie Scotts All Stars with Special Guest vocalists Emma Smith (Mon) and Natalie Williams (Tues)
Monday's band line up: Alex Garnett (tenor sax), James Pearson (piano), Sam Burgess (bass) and Ed Richardson (drums).
Tuesday's band line up: is Alex Garnett (tenor sax), James Pearson (piano), Sam Burgess (bass) and Chris Higginbottom
The Ronnie Scott's All Stars are comprised of some of the greatest talents on the U.K scene, including some of our most regular performers James Pearson (piano), Sam Burgess (bass) and Pedro Segundo (drums)
James Pearson:-
Musical Director at Ronnie Scott's and the owner of a ferocious piano technique coupled with a sense of musicality rarely heard, James Pearson is one of the most exciting musicians to have emerged from the U.K in the last 25 years. After working with him, the late jazz legend Sir John Dankworth declared: "James Pearson is an exceptionally gifted artist. His masterful playing makes him head and shoulders above the rest of his contemporaries. He shows signs of true greatness".
Sam Burgess:-
Double Bass Despite only being in his early 30's, already Sam is a stalwart of the UK jazz scene. As well as appearing on numerous film soundtracks such as 'Bridget Jones's Diary' and 'Hannibal'. Sam's thumping, pounding, relentlessly driving bass lines have been heard accompanying the likes of Bob James, Billy Kilson, Gary Novak, Joe Lock, Dave Kekowski, Guy Barker, Dave O'Higgins, Pete King, Gareth Williams, Claire Martin, Jim Mullen, Alan Barnes, Tim Whitehead, John Horler, Gwyneth Herbert, John Dankworth, The BBC Big Band and Robbie Williams.
Pedro Segundo:-
At 22 years old Pedro Segundo, Portuguese drummer joins the James Pearson Trio at Ronnie Scott's Jazz Club.
Born and raised in Lisbon, picked up the drums seriously at the age of eight starting studying classical percussion a year later. In June 2011 he graduates from Guildhall School of Music and Drama in Timpani and Classical Percussion. His musical ability combines a blend of styles creating a unique sound on the drum set. He has played regularly with Dennis Rollins, Femi Temowo, Mário Franco, Cleveland Watkiss and many other artists touring in festivals all around the globe.
Other regular performers include:
Dave Ohm (drums), Natalie Williams (vocals), Alex Garnett (sax), Nigel Price (guitar), Steve Rushton (drums), Polly Gibbons (vocals), Alistair White (trombone), Gary Baldwin (hammond), Al Cherry (guitar), Matt Home (drums), Alan Barnes (sax), Ralph Salmins (drums), Arnie Somogyi (bass), Mark Smith (bass), James Nisbet (guitar), Pete Long (sax), Gerard Presencer (Trumpet), Dave O'Higgins (sax), Alec Dankworth (bass), Steve Fishwick (trumpet) and others...
To find out more, please go to:
www.myspace.com/thejamespearsontrio