Booking now closed, a few tickets still left on the door.
LONDON SUPERSAX feat. ALEX GARNETT leader/baritone sax, NIGEL HITCHCOCK & SAMMY MAYNE alto sax, GRAEME BLEVINS & BRANDON ALLEN tenor sax, JAMES PEARSON piano, SAM BURGESS bass, IAN THOMAS drums and FREDDIE GAVITA trumpet
Miles Davis once said, "You can tell the history of jazz in four words: Louis Armstrong. Charlie Parker." Charlie "Yardbird" Parker was a central figure in the development of modern jazz characterized by his fast tempos, virtuosic technique, and explosive improvisation .Despite a tragically short life, "Bird" introduced many revolutionary concepts to Jazz and helped create the benchmark for modern music.
To this day, his incredible legacy continues to inspire and influence generations of performers and composers around the world.
The Idea for celebrating the creativity of Parker. Back in the early 1970s bassist Buddy Clark and saxophonist Med Flory conceived a brilliant idea: to form a Saxophone section with rhythm that would use orchestrated arrangements of saxophonist Charlie Parker's transcendent bop solos as the basis for its music. As for a name, nothing less than SuperSax would suffice. The nine-piece group made its debut in 1972 and was an immediate hit around the world.
As well as producing a dozen well-received albums and earning a Grammy award, the SuperSax alumni roster embodied names such as Warne Marsh, Conte Candoli, Jack Nimitz, Frank Rosolino , Lanny Morgan, Jake Hanna, Lou Levy, Carl Fontana, Blue Mitchell and Jay Migliori.
Fast-forward to 2013, when London based Saxophonist Alex Garnett had an ingenious idea of his own: why couldn't there be a renewed version of SuperSax in England? Inspired by the thought and a deep love of Parkers music, Garnett set about assembling the talent needed to stock such a precision-oriented group and to make the London SuperSax concept a reality.
Recruiting the best to wrestle with Parker's finger-busting solos the group boasts a front line of (Alto Saxophones) Nigel Hitchcock and Sammy Maine, (Tenor Saxophones) Graham Blevins and Brandon Allen and Alex Garnett himself on the Baritone Saxophone.
Enlisting pianist James Pearson, bassist Sam Burgess and Chris Higginbottom on drums to round out the rhythm section and a ninth member, renowned soloist Steve Fishwick on Trumpet, the group will revisit the original SuperSax scores and do battle on of some of Charlie Parker's most exciting and creative classics.
Hear iconic arrangements of "Cool Blues," "Star Eyes," "Lover Man", "Salt Peanuts," "Parker's Mood" , "A night in Tunisia", "Moose the Mooche" and much, much more!!
Click the below for the original recording, an idea of what to expect on the night - and that's for sparks to fly!!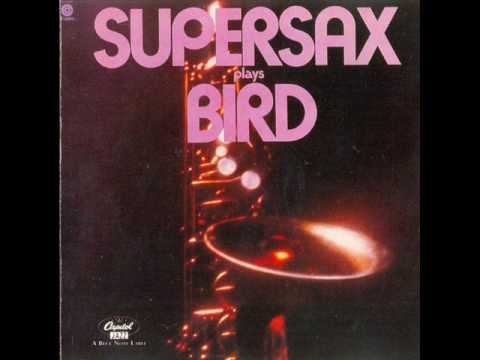 Support: The Ronnie Scotts All Stars
+ support tonight: The Ronnie Scotts All Stars with Special Guest vocalists Emma Smith (Mon) and Natalie Williams (Tues)
Monday's band line up: Alex Garnett (tenor sax), James Pearson (piano), Sam Burgess (bass) and Ed Richardson (drums).
Tuesday's band line up: is Alex Garnett (tenor sax), James Pearson (piano), Sam Burgess (bass) and Chris Higginbottom
The Ronnie Scott's All Stars are comprised of some of the greatest talents on the U.K scene, including some of our most regular performers James Pearson (piano), Sam Burgess (bass) and Pedro Segundo (drums)
James Pearson:-
Musical Director at Ronnie Scott's and the owner of a ferocious piano technique coupled with a sense of musicality rarely heard, James Pearson is one of the most exciting musicians to have emerged from the U.K in the last 25 years. After working with him, the late jazz legend Sir John Dankworth declared: "James Pearson is an exceptionally gifted artist. His masterful playing makes him head and shoulders above the rest of his contemporaries. He shows signs of true greatness".
Sam Burgess:-
Double Bass Despite only being in his early 30's, already Sam is a stalwart of the UK jazz scene. As well as appearing on numerous film soundtracks such as 'Bridget Jones's Diary' and 'Hannibal'. Sam's thumping, pounding, relentlessly driving bass lines have been heard accompanying the likes of Bob James, Billy Kilson, Gary Novak, Joe Lock, Dave Kekowski, Guy Barker, Dave O'Higgins, Pete King, Gareth Williams, Claire Martin, Jim Mullen, Alan Barnes, Tim Whitehead, John Horler, Gwyneth Herbert, John Dankworth, The BBC Big Band and Robbie Williams.
Pedro Segundo:-
At 22 years old Pedro Segundo, Portuguese drummer joins the James Pearson Trio at Ronnie Scott's Jazz Club.
Born and raised in Lisbon, picked up the drums seriously at the age of eight starting studying classical percussion a year later. In June 2011 he graduates from Guildhall School of Music and Drama in Timpani and Classical Percussion. His musical ability combines a blend of styles creating a unique sound on the drum set. He has played regularly with Dennis Rollins, Femi Temowo, Mário Franco, Cleveland Watkiss and many other artists touring in festivals all around the globe.
Other regular performers include:
Dave Ohm (drums), Natalie Williams (vocals), Alex Garnett (sax), Nigel Price (guitar), Steve Rushton (drums), Polly Gibbons (vocals), Alistair White (trombone), Gary Baldwin (hammond), Al Cherry (guitar), Matt Home (drums), Alan Barnes (sax), Ralph Salmins (drums), Arnie Somogyi (bass), Mark Smith (bass), James Nisbet (guitar), Pete Long (sax), Gerard Presencer (Trumpet), Dave O'Higgins (sax), Alec Dankworth (bass), Steve Fishwick (trumpet) and others...
To find out more, please go to:
www.myspace.com/thejamespearsontrio