Booking now closed, a few tickets still left on the door.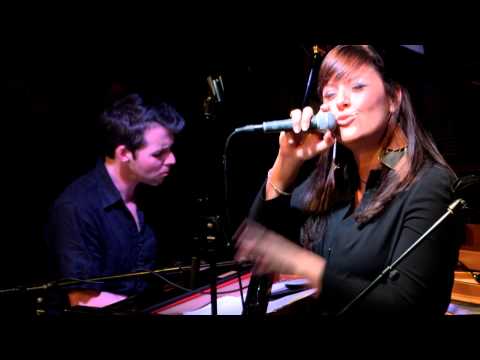 Coming together to form a veritable jazz/soul vocal supergroup exclusive to Ronnie Scott's – The pairing of two of the UK's very finest jazz singer-pianists, Ian Shaw and Liane Carroll with top notch soul singers Brendan Reilly and Natalie Williams - all 4 are individual headline performers in their own right. The band will be backed by 2011 Mercury Prize-nominee pianist Gwilym Simcock
Natalie Williams
"One of the UK's hottest singers…she effortlessly moves from soul-diva to sensual and sophisticated jazz."
Time Out
True artistry tends to sidestep the allure of celebrity in favour of championing itself as the sincere alternative; it's behind the songs that tickle the emotions, whisper the deepest secrets and prove that the artist possesses a genius that'll ensure they're remembered as one of the shining lights of our era. This is the story of Natalie Williams – a Mobo nominated singer-songwriter whose accomplishments as one of the UK's leading soul-jazz stars speak of a woman who understands how to combine her femininity and independence with a superior talent to create songs of love's highs and woes that resonates with the soul.
Liane Carroll
Having been something of a stalwart of the British jazz scene for many years, Liane has in the last few years gone on to enjoy huge critical acclaim and is now considered by many to be one of the top jazz vocalists not just in the UK, but worldwide. 2009 has so far been an even busier year for Liane, and in May she released a new duo album featuring the acclaimed Scottish jazz pianist Brian Kellock.
Her eagerly awaited second solo album, 'Slow Down,' was released last year and has received superb reviews. In December, the album was picked by the Sunday Times as one of their top five jazz albums of the year. Liane appears here with her beloved trio: her husband, virtuoso bassist Roger Carey teams with drummer Mark Fletcher to create a superb rhythm section. "Close to musical perfection" Jazzwise , "World-class" John Fordham - The Guardian
Ian Shaw
BBC Award winning jazz singer, IAN SHAW returns to the club where, after hearing a recording, Ronnie Scott himself encouraged him to sing jazz. Shaw has appeared here regularly since the late eighties "Quite simply, the best" (The Independent)
"Best Jazz Vocalist" at the BBC Jazz Awards in 2007 and 2004, Ian Shaw has already amassed a number of highly acclaimed albums and is a popular performer both in the UK and the US. An incredibly colourful character, he has been cited, along with Mark Murphy and Kurt Elling, as one of the world's finest male jazz vocalists.
Brendan Reilly
Jazz-trained singer, writer, player, and producer of Soul, pop, jazz, and dance music. Born and raised in LA (Playboy Jazz Festival, Monterey Jazz Festival (twice), LA jazz society award winner, session work), moved to NYC at the age of 18 (Apollo Amateur Night finalist, soloist with NY Metro Mass Gospel Choir, numerous nightclub appearances, session work), moved to Europe at the age of 20 (solo material released in the UK, France, Germany, Austria, and Switzerland, countless sessions (including TV and Radio campaigns for companies such as MTV.
Gwilym Simcock
Gwilym Simcock, BBC Radio 3 Jazz Award winner and first ever BBC Radio 3 New Generations Jazz Artist, has already been described as a 'jazzier' John Taylor, his style reminiscent of Keith Jarrett, his piano playing 'exceptional', 'brilliant', 'dazzling'. His 'harmonic sophistication and subtle dovetailing of musical traditions' make him stand out as one of the most gifted performers and imaginative composers working on the British scene. Able to move effortlessly through jazz and classical he can at times inhabit both worlds. The music is engaging, exciting, often unexpected, melodically enthralling, complex and wonderfully optimistic.
Gwilym's skills as a composer were very much in evidence at the 2008 BBC Proms where his magnificent premiere of his work "Progressions for Piano and Orchestra" enthralled the Proms audience and many thousands more who saw it live on BBC2 TV.
Gwilym's trio will be playing new compositions from his new album "Blues Vignette" (Basho SRCD32-2)released in the autumn of 2009. The music is a mix of Simcock compositions and imaginative interpretations of great classics such as 'Black Coffee' and 'Cry Me A River.
Gwilym says 'All of this music is neither 'jazz' nor 'classical'. It is just music, and the type of music that interests and stimulates me. What I feel is important in music is lyricism, subtlety and clarity in harmonic and rhythmic movement, and an overall sense of an emotional connection with the listener, whatever the context of the music may be".
"The interaction is consistently stunning, while Simcock's own playing borders on the sublime at times. Rhythmically flexible, assured whether inside or out, the trio set down a marker that few others are likely to equal". Ray Comiskey, The Irish Times 5 stars*****
Support: Gareth Williams Power Trio
GARETH WILLIAMS TRIO feat. GARETH WILLIAMS piano, DAVE GREEN double bass & IAN THOMAS drums
The trio will play some of the music from 'Short Story', their take on the music of Bill Evans and Scott LaFaro
One of the most intensely creative, dynamic and exciting performers on the UK scene, Gareth Williams has been receiving increasing critical and public acclaim since becoming a professional musician in the early 90s.
Described as "jewel of a player... spinning out luminous introductions and codas" by Jazziz Magazine (USA), he has dazzled audiences not only by his virtuoso approach to the piano, but also by his multi-instrumentalist talents on guitar and vocals.
Born in 1968 into a highly musical family, Gareth took up the piano at the age of five. He turned professional after graduating in English Literature from Cambridge University in 1990 and went on to study music at London's Guildhall, initially on guitar, later switching to piano. It is mainly as a pianist that Gareth has earned a glowing reputation both in the UK and abroad over the past few years, but his singing and guitar playing have gained increased recognition in their own right. An electrifying performer, he has been described as "…a fantastic improviser" by John Fordham in The Guardian and "If you've seen Williams perform, you'll know that he's the embodiment of creative energy, a physical player who gets wrapped up in his work, with a keyboard command that's both impressive and well-directed" by Peter Vacher in Jazzwise.
His first major professional engagement was as keyboard player/MD for jazz hip-hop band Us3 (whose most celebrated hit was 'Cantaloop'). He performed with the band on a world tour in 1993 and appears on their album 'Broadway & 52nd' (Blue Note).
Gareth has since worked as pianist/MD for internationally acclaimed jazz singer Claire Martin (several times winner of the British Jazz Singer of the Year awards) and has also been involved in arranging her music, writing original compositions for her band, singing and playing guitar. He has worked with many international jazz greats, including Art Farmer, George Coleman, Bud Shank, James Moody and Dave Liebman, plus top British musicians such as Jim Mullen, Martin Taylor, Martin Drew, Tommy Smith, Tim Garland, Clark Tracey, Gwyneth Herbert and Iain Ballamy.
As bandleader, he formed the Gareth Williams Trio in 1995, featuring Gareth on piano, guitar and vocals, Dave Green on double bass and Tristan Mailliot on drums. The trio released their debut album 'THREE' (Jazz House), recorded live at Ronnie Scott's in 2001.
In 2005 Gareth showcased a new BBC Radio 3 commission, Poems from the 20th Century, written for iconic British vocalist Norma Winstone.
Gareth is also a member of Iain Ballamy's Anorak, featuring Steve Watts on bass and Martin France on drums. He has appeared on the band's album "More Jazz".
Gareth's latest project is The Gareth Williams Power Trio, featuring Laurence Cottle on electric bass and Ian Thomas on drums. The Power Trio released 'Shock!' (Linn Records) to great critical acclaim in March 2009. The album features twelve original compositions and a blistering interpretation of John Coltrane's 'Giant Steps'. 'Williams is a hugely gifted pianist, with an apparently endless fund of ideas, plus the detachment to organize them into coherent shapes'. Dave Gelly, The Observer. 'A prodigiously talented pianist… a joyous, uncompromising celebration of sophistication, musicality, muscularity, it's shockingly good'. Mojo Magazine. 'The wow factor in Gareth Williams' all-Welsh trio comes from projecting controlled, inner power into the music… Altogether a triumph of Welsh wizardry. 5 stars' Garry Booth, BBC Music Magazine.