Booking now closed, a few tickets still left on the door.
BIRELI LAGRENE - guitar, HONO WINTERSTEIN - guitar,, FRANCK WOLF - sax, WILLIAM BRUNARD - double bass
BIRELI LAGRENE
An exceptional and precocious talent, Biréli Lagrène took the jazz world by storm with his dazzling speed and phenomenal bursts of improvisation. After having mastered the late great Django Reinhardt's Gypsy swing repertoire, the guitarist tried his hand at fusion jazz and rock. In fact, Lagrène had also been looking up to Wes Montgomery, George Benson and Jimi Hendrix for inspiration. Very much in demand, he has been collaborating with a host of well-established musicians, from Al Di Meola to Jaco Pastorius to Stéphane Grappelli. At once dynamic and lyrical, this sparkling musician is without a doubt one of the most prominent musicians of his generation.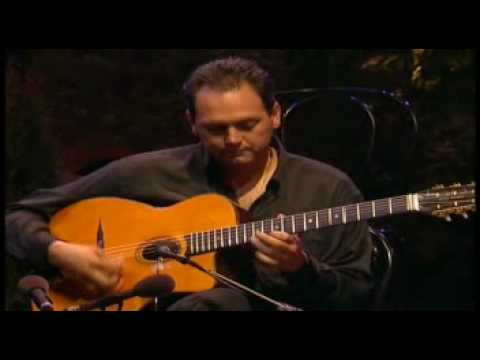 BIO
What is left today of the child prodigy that was Bireli Lagrene ? - A wonderful musician, a magician of the guitar 's most dazzling , a " choreographer " of the six - strings as they are currently on the fingers of one hand.
From the beginning , music was his language , and the Reinhardt school. Destiny inevitable when one is born , like him, in Alsace ( 1966) , which comes from the large gypsy family, and the chance that identifies you as a gifted in this area. Beyond rigor which was that of learning ( with his father and with his brother ), this incredible blend of strength and precision Lagrène never forget the essential : " Django helped me to see what is happening elsewhere", he likes to recall . This great lesson of freedom, he was able to capture like no other , his first major public benefits ( including Montreux, 1981) offer a striking testimony.
But soon the call of the sea leads him outside the family clan. To stay true to himself, and walk according to his own artistic star, Biréli not hesitate to make man out . Out with the gypsy cocoon, to embark on the adventure of fusion. Jaco Pastorius (ex -Weather Report) has been there . Jaco, with which Biréli share the stage in 1986, and whose influence on our guitarist (now in the meantime , a formidable bassist ) go to mimicry (were, moreover, the enormous adaptability and other instrumental facilities he has shown since our man can also be transformed as required in remarkable keyboardist , and it feeds a growing private passion for the violin ) . So far this extraordinary taste and affinity for music material meets an insatiable curiosity Biréli then multiplies experiences and encounters with all the jazz world has unique and compelling personalities ( Stéphane Grappelli , Larry Coryell , John McLaughlin, Joe Zawinul, Al Di Meola , Stanley Clarke, Miroslav Vitous , Lenny White, Dennis Chambers, Victor Bailey ... not to mention its hexagonal partners among the most prestigious Didier Lockwood, Richard Galliano ...) .
The 90s for those Biréli recognition and consecration , obtained by playing standards ("Live in Marciac " , 1994). Under classical (since Lagrène has , too, that card stock ) .
Django d'Or in 1993, Victoire de la Musique in 2001 and 2002 Biréli collects trophies, and points to the early 2000s an incredible challenge : replay the music of his origins , while remaining itself. A dangerous game that usually it is ( one facing the mirror) one of the few not to fall into the trap of narcissism . Balancing act and real achievement , the epic " Gipsy Project" is a triumph ( which culminates with a " Live in Vienna " absolutely mind-blowing ) . The buckle is fastened, and the time came for one of the greatest guitarists of our time to go to new shores . New formula, new inspiration and new music to explore closer to the blues for a man definitely "in motion" . Max Robin
Support: The Ronnie Scotts All Stars
+ support tonight: The Ronnie Scotts All Stars with Special Guest vocalists Emma Smith (Mon) and Natalie Williams (Tues)
Monday's band line up: Alex Garnett (tenor sax), James Pearson (piano), Sam Burgess (bass) and Ed Richardson (drums).
Tuesday's band line up: is Alex Garnett (tenor sax), James Pearson (piano), Sam Burgess (bass) and Chris Higginbottom
The Ronnie Scott's All Stars are comprised of some of the greatest talents on the U.K scene, including some of our most regular performers James Pearson (piano), Sam Burgess (bass) and Pedro Segundo (drums)
James Pearson:-
Musical Director at Ronnie Scott's and the owner of a ferocious piano technique coupled with a sense of musicality rarely heard, James Pearson is one of the most exciting musicians to have emerged from the U.K in the last 25 years. After working with him, the late jazz legend Sir John Dankworth declared: "James Pearson is an exceptionally gifted artist. His masterful playing makes him head and shoulders above the rest of his contemporaries. He shows signs of true greatness".
Sam Burgess:-
Double Bass Despite only being in his early 30's, already Sam is a stalwart of the UK jazz scene. As well as appearing on numerous film soundtracks such as 'Bridget Jones's Diary' and 'Hannibal'. Sam's thumping, pounding, relentlessly driving bass lines have been heard accompanying the likes of Bob James, Billy Kilson, Gary Novak, Joe Lock, Dave Kekowski, Guy Barker, Dave O'Higgins, Pete King, Gareth Williams, Claire Martin, Jim Mullen, Alan Barnes, Tim Whitehead, John Horler, Gwyneth Herbert, John Dankworth, The BBC Big Band and Robbie Williams.
Pedro Segundo:-
At 22 years old Pedro Segundo, Portuguese drummer joins the James Pearson Trio at Ronnie Scott's Jazz Club.
Born and raised in Lisbon, picked up the drums seriously at the age of eight starting studying classical percussion a year later. In June 2011 he graduates from Guildhall School of Music and Drama in Timpani and Classical Percussion. His musical ability combines a blend of styles creating a unique sound on the drum set. He has played regularly with Dennis Rollins, Femi Temowo, Mário Franco, Cleveland Watkiss and many other artists touring in festivals all around the globe.
Other regular performers include:
Dave Ohm (drums), Natalie Williams (vocals), Alex Garnett (sax), Nigel Price (guitar), Steve Rushton (drums), Polly Gibbons (vocals), Alistair White (trombone), Gary Baldwin (hammond), Al Cherry (guitar), Matt Home (drums), Alan Barnes (sax), Ralph Salmins (drums), Arnie Somogyi (bass), Mark Smith (bass), James Nisbet (guitar), Pete Long (sax), Gerard Presencer (Trumpet), Dave O'Higgins (sax), Alec Dankworth (bass), Steve Fishwick (trumpet) and others...
To find out more, please go to:
www.myspace.com/thejamespearsontrio