Booking now closed, a few tickets still left on the door.
Line up confirmed: Zhenya Strigalev – sax, Eric Harland – drums, Linley Marthe – bass & Federico Dannemann – guitar
A very welcome return to Ronnie Scott's to Zhenya Strigalev who's presenting his new album NEVER GROUP!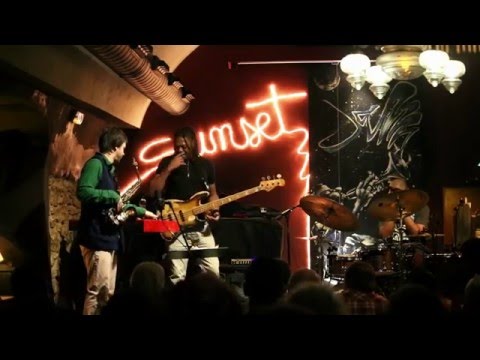 Highly original UK-based Russian saxophonist Zhenya Strigalev is one of the rising stars of the European jazz scene and he is fast building a reputation on both sides of the Atlantic for his exhilarating take on contemporary jazz. His Ronnie Scott's shows are amongst the most anticipated of the year and tonight's is no different as he presents music from his brand new Whirlwind Records release 'Never Group' with an exceptional band featuring one of the most in demand drummer extraordinaire Eric Harland (Dave Holland, Charles Lloyd, Joshua Redman), Mauritian bass virtuoso Linley Marthe (Joe Zawinul, Mino Cinelu, Richard Galliano) and Chilean based Argentinean award winning guitarist Federico Dannemann (Mark Elf, Peter Erskine,Valery Polomarev, Chico Cesar, Shakira).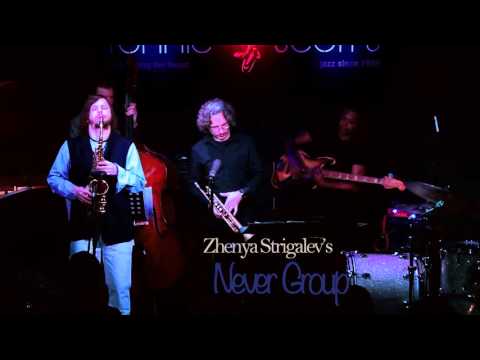 "It can be fast and furious, tender and emotional and a whole lot of fun too, for the listener as well as the musicians. How many jazz recordings can you say that about these days?" 4 Stars, Jazzwise Magazine
NEVER GROUP
NEVER GROUP is a new album and project by Zhenya Strigalev, which presents original music from saxophonist Zhenya (Alex Sipiagin, Aaron Parks, Larry Grenadier, Matt Garrison, Chris "Daddy" Dave, Ambrose Akinmusire, "Foley" McCreary, etc). The line-up for this CD release tour will consist of "NEVER Group!" is a departure from Zhenya's last project, Smiling Organizm and "Robin Goodie", demonstrating musical sides that have never before been exposed in Zhenya's previous projects.
Building a reputation on both sides of the North Atlantic for his adventurous and impassioned emphasis on improvisation, Never Group! is an experience that matches quirky abandon with resolute musicianship and technicality. Strigalev enjoys the challenge of shining a light on the undiscovered and describes the desired on-the-edge thrill that unfolded from the Never Group! sessions: "The whole point of what I do is that I need to surprise myself; I don't want to record something which sounds exactly like this or like that, because that's not interesting enough for me. Sometimes I can simply feel a tempo, a mood or an atmosphere, and I know this quartet will provide the opportunity to develop that."
You can listen to some of the new album here: http://www.whirlwindrecordings.com/never-group/
Check out the Never Group new video here: https://www.youtube.com/watch?v=QwGAa5jiiEE
Selected Press cuts:
"At the root of it all is Strigalev, whose compositions are so strong that they live up to the talents of the musical titans who join him on this CD. This could be the kind of jazz album that has something for everyone, not out of some sense of catering to the crowd, but because the mood it creates is so universally appealing." 4.5 Stars, Downbeat Magazine. The best albums of 2015.
"Alto saxist Zhenya Strigalev juices up retro-minded postbop with cutting-edge grooves and madcap intensity on his excellent latest, Robin Goodie." TimeOut, New York critic's pick
"Expands upon the promise exhibited by the first Smiling Organizm record. An album that is once again bursting with ideas." 4 Stars, The Jazz Mann
"Everything is exuberantly, madly creative… All six musicians play with verve and power, the horn section parts being particularly fruity, and the album doesn't really have any low points, just lots of surprises all the way to the end."
The Jazz Breakfast
"This is no stretch limousine of glossy, forgettable soft jazz, but rather an impassioned outpouring of the sax man's quirky, raw, yet ultimately tuneful creations as composer and instrumentalist…. Crank it up." - AP Reviews
"Countless shads and colors, and new ones open up with each listening. Intoxicating!" - Jazz Thing Magazine
"Together with his Smiling Organizm Group consisting of American musicians, some of even Blue Note fame, the exceptional musicians embark on a journey through the depths of jazz expressiveness and combines them with unpolished harmonies and quirky guitar runnings, creating a unique sound world of electronic effects, distorted noise and hectic swing styles. No simple feat, but exceedingly tasty!" - In Music
"Sometimes a CD seems to fall straight from the sky… Strigalev has generated a veritable personal style while surfing through the entire history of jazz… The only certainty is that this music has humor and is highly musical." - Stereo
"Smiling Organizm is one of the most interesting formations in recent years." - Boblinger Bote
Guitarist Federico Dannemann
Federico Dannemann ( Buenos Aires , 1979 ) is a Chilean-based Argentinean guitarist, composer , arranger and teacher is leading voice jazz scene in Chile and Latin America. His early career started at the age of 10 on the roots of classic rock, blues and traditional jazz, but he has developed a particularly eclectic career, partnering with musicians from the south-american folk, pop and contemporary jazz.
Federico is graduated from the prestigious University of Chile. After a successful tour in UK during 2004 he got a full scholarship for a posgraduate diploma at the Royal Academy of Music. In 2006 he was one of the finalists in the Gibson guitar competition during the Montreux Jazz Festival. Winner of the most important Chilean music award in 2006 (Altazor prize) he has performed in the first class circuit of jazz festivals in South America: Buenos Aires Jazz Festival, La Paz Jazz Festival, Lapataia Jazz Fest and Providencia Jazz Fest to name a few. He has also performed with a wide list of international jazz artists such as Mark Elf, Peter Erskine, Valery Polomarev and Mike Murley or Latin-american stars as Chico Cesar, Mercedes Sosa and Shakira. He also has been working with pop and folk-fusion projects such as Francesca Ancarola, Pedro Piedra and Pedro Aznar. He recorded several albums with them, and toured for massive audiences in Mexico (Vive Latino fest), New York, Perú, Uruguay, Argentina (Alas concerts), Brasil, Chile (Lollapalooza), Honduras and Costa Rica.
Support: The Ronnie Scotts All Stars
+ support tonight: The Ronnie Scotts All Stars with Special Guest vocalists Emma Smith (Mon) and Natalie Williams (Tues)
Monday's band line up: Alex Garnett (tenor sax), James Pearson (piano), Sam Burgess (bass) and Ed Richardson (drums).
Tuesday's band line up: is Alex Garnett (tenor sax), James Pearson (piano), Sam Burgess (bass) and Chris Higginbottom
The Ronnie Scott's All Stars are comprised of some of the greatest talents on the U.K scene, including some of our most regular performers James Pearson (piano), Sam Burgess (bass) and Pedro Segundo (drums)
James Pearson:-
Musical Director at Ronnie Scott's and the owner of a ferocious piano technique coupled with a sense of musicality rarely heard, James Pearson is one of the most exciting musicians to have emerged from the U.K in the last 25 years. After working with him, the late jazz legend Sir John Dankworth declared: "James Pearson is an exceptionally gifted artist. His masterful playing makes him head and shoulders above the rest of his contemporaries. He shows signs of true greatness".
Sam Burgess:-
Double Bass Despite only being in his early 30's, already Sam is a stalwart of the UK jazz scene. As well as appearing on numerous film soundtracks such as 'Bridget Jones's Diary' and 'Hannibal'. Sam's thumping, pounding, relentlessly driving bass lines have been heard accompanying the likes of Bob James, Billy Kilson, Gary Novak, Joe Lock, Dave Kekowski, Guy Barker, Dave O'Higgins, Pete King, Gareth Williams, Claire Martin, Jim Mullen, Alan Barnes, Tim Whitehead, John Horler, Gwyneth Herbert, John Dankworth, The BBC Big Band and Robbie Williams.
Pedro Segundo:-
At 22 years old Pedro Segundo, Portuguese drummer joins the James Pearson Trio at Ronnie Scott's Jazz Club.
Born and raised in Lisbon, picked up the drums seriously at the age of eight starting studying classical percussion a year later. In June 2011 he graduates from Guildhall School of Music and Drama in Timpani and Classical Percussion. His musical ability combines a blend of styles creating a unique sound on the drum set. He has played regularly with Dennis Rollins, Femi Temowo, Mário Franco, Cleveland Watkiss and many other artists touring in festivals all around the globe.
Other regular performers include:
Dave Ohm (drums), Natalie Williams (vocals), Alex Garnett (sax), Nigel Price (guitar), Steve Rushton (drums), Polly Gibbons (vocals), Alistair White (trombone), Gary Baldwin (hammond), Al Cherry (guitar), Matt Home (drums), Alan Barnes (sax), Ralph Salmins (drums), Arnie Somogyi (bass), Mark Smith (bass), James Nisbet (guitar), Pete Long (sax), Gerard Presencer (Trumpet), Dave O'Higgins (sax), Alec Dankworth (bass), Steve Fishwick (trumpet) and others...
To find out more, please go to:
www.myspace.com/thejamespearsontrio