Booking now closed, a few tickets still left on the door.
Pee Wee Ellis (sax), Fred Wesley (trombone), Mark Mondesir( drums), Laurence Cottle (bass), Tony Remy (guitar),Dan Moore (keys), Josh Arcoleo – alto sax, Robin McKelle (vocals)
Pee Wee Ellis and Fred Wesley together were one of the greatest horn sections in James Brown's career. Together they toured, recorded and wrote for James Brown in the 60s and 70s. Playing funk, gospel and jazz, together these two will take us back to the day when soul reigned supreme.
Pee Wee Ellis
Pee Wee Ellis was band leader and co-writer in James Brown's band between 1965 and 1969.
Pee Wee has since settled in the UK and performs and teaches all over the world from his base in the Wiltshire countryside.
After leaving James Brown, Ellis was Van Morrison's musical director for 19 years. He now tours and records with his Funk Assembly.
Fred Wesley
Fred Wesley, along with Pee Wee Ellis, is another of those credited with the advent of Funk. Fred is a trombone player who stayed with James Brown through the 70s and today fronts his own group, The New JB's. He has also worked with Parliament-Funkadelic, Tina Turner, Ray Charles and Count Basie.
We speak of love and happiness: For me, happiness is Fred Wesley playing his horn
- James Brown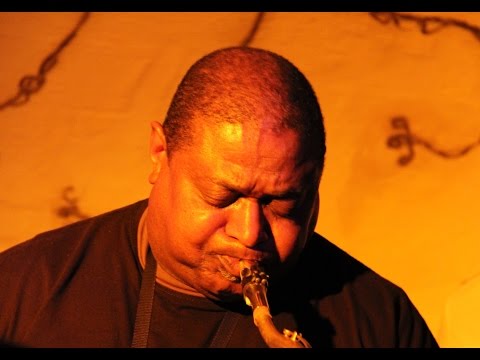 FRED WESLEY
Legendary bandleader, trombonist and author Fred Wesley is one of the forefathers of funk who still is setting the standard with his jazz-funk band The New JBs. Together for more than 20 years, the band is a living celebration of roots funk and more, performing such hits as "Pass the Peas" made with James Brown and the JBs including Maceo Parker, as well as selections from the P-Funk years and Fred's own and others' soulful jazz and blues compositions.
Fred's critically acclaimed memoir "Hit Me, Fred: Recollections of a Side Man" (Duke University Press, 2002) chronicles through hilarious stories a half century of music through the eyes of one of the world's most-sampled musicians.
Born in Columbus, Georgia, and raised in Mobile, Ala., Fred began his career as a teenage trombonist with Ike and Tina Turner. He later was music director, arranger, trombonist and a primary composer for Brown from 1968-1975, then arranged for and played with Parliament-Funkadelic and Bootsy's Rubber Band.
With Brown, Fred became "the world's most famous sideman, orchestrating the sinuous grooves and contributing the bold, surgically precise solos that defined the language of funk." He helped take funk to the next level with George Clinton and Bootsy Collins.
Fred has recorded a dozen solo albums including the cult favorite "House Party," is featured in the Oscar-winning documentary "When We Were Kings" and countless other documentaries and books about the funk, and gives master classes around the world.
Also a veteran of the Count Basie Orchestra, Fred has worked with scores of other artists, from Ray Charles to Russell Gunn. His current projects include collaborations with the klezmer=funk-hip hop unit Abraham Incorporated, and his James Brown predecessor, mentor and friend Pee Wee Ellis.
PEE WEE ELLIS
Pee Wee's new album Tenoration, jointly produced with Joachim Becker for "Art Of Groove", was released worldwide in April 2011, coincidentally the month of his 70th birthday. Celebrating his more than 55 years in music this eclectic recording showcases both the jazz and funk aspects of his musical personality on two separate discs. 'Tenoration' has a unique live feel capturing the vitality of Pee Wee's live shows and the rapport that he has with all his musicians.
Pee Wee toured throughout 2011 to promote 'Tenoration' and in 2012b visited Russia, Brazil, Japan, USA and of course Europe, as well as touring the UK extensively with the new group Ginger Baker's Jazz Confusion featuring Pee Wee Ellis.

2013 has been a busy year. The Pee Wee Ellis Assembly have been in Japan and Spain, and he has been working with Jimmy Cobb in a new line up Jazz Heads. In April Pee Wee arranged and recorded a Christmas cd which will release in October, supported by a tour of Germany in December. He continues to work with Ginger Baker worldwide, and has guested this year with Paul Jackson and The Lionel Hampton Big Band,

He also works for various educational projects: as a Jazz Ambassador for Wells Cathedral School, leading a new masterclass project with Bath University's ICIA, and an online music program, (ProMusic Tutor).

In 2014 he will be writing a book about his life…..
Support: The Ronnie Scotts All Stars
+ support tonight: The Ronnie Scotts All Stars with Special Guest vocalists Emma Smith (Mon) and Natalie Williams (Tues)
Monday's band line up: Alex Garnett (tenor sax), James Pearson (piano), Sam Burgess (bass) and Ed Richardson (drums).
Tuesday's band line up: is Alex Garnett (tenor sax), James Pearson (piano), Sam Burgess (bass) and Chris Higginbottom
The Ronnie Scott's All Stars are comprised of some of the greatest talents on the U.K scene, including some of our most regular performers James Pearson (piano), Sam Burgess (bass) and Pedro Segundo (drums)
James Pearson:-
Musical Director at Ronnie Scott's and the owner of a ferocious piano technique coupled with a sense of musicality rarely heard, James Pearson is one of the most exciting musicians to have emerged from the U.K in the last 25 years. After working with him, the late jazz legend Sir John Dankworth declared: "James Pearson is an exceptionally gifted artist. His masterful playing makes him head and shoulders above the rest of his contemporaries. He shows signs of true greatness".
Sam Burgess:-
Double Bass Despite only being in his early 30's, already Sam is a stalwart of the UK jazz scene. As well as appearing on numerous film soundtracks such as 'Bridget Jones's Diary' and 'Hannibal'. Sam's thumping, pounding, relentlessly driving bass lines have been heard accompanying the likes of Bob James, Billy Kilson, Gary Novak, Joe Lock, Dave Kekowski, Guy Barker, Dave O'Higgins, Pete King, Gareth Williams, Claire Martin, Jim Mullen, Alan Barnes, Tim Whitehead, John Horler, Gwyneth Herbert, John Dankworth, The BBC Big Band and Robbie Williams.
Pedro Segundo:-
At 22 years old Pedro Segundo, Portuguese drummer joins the James Pearson Trio at Ronnie Scott's Jazz Club.
Born and raised in Lisbon, picked up the drums seriously at the age of eight starting studying classical percussion a year later. In June 2011 he graduates from Guildhall School of Music and Drama in Timpani and Classical Percussion. His musical ability combines a blend of styles creating a unique sound on the drum set. He has played regularly with Dennis Rollins, Femi Temowo, Mário Franco, Cleveland Watkiss and many other artists touring in festivals all around the globe.
Other regular performers include:
Dave Ohm (drums), Natalie Williams (vocals), Alex Garnett (sax), Nigel Price (guitar), Steve Rushton (drums), Polly Gibbons (vocals), Alistair White (trombone), Gary Baldwin (hammond), Al Cherry (guitar), Matt Home (drums), Alan Barnes (sax), Ralph Salmins (drums), Arnie Somogyi (bass), Mark Smith (bass), James Nisbet (guitar), Pete Long (sax), Gerard Presencer (Trumpet), Dave O'Higgins (sax), Alec Dankworth (bass), Steve Fishwick (trumpet) and others...
To find out more, please go to:
www.myspace.com/thejamespearsontrio