Canadian tenor saxophonist David Rubel has caused quite a stir in his home town of Toronto with the recent release of his debut album "Into The Dark". While he was a student he spent a week staying with Dave Liebman receiving intensive one-on-one tuition, and he's currently on tour in the UK, having recently played with Kurt Elling, Donny McCaslin, and Don Thompson. Vibraharpist Nat Steele is a well established bebop musician on the London scene, and recently travelled to tour Eastern Canada with David's quartet, where they developed a close musical rapport. Tonight they'll be paying tribute to one of their mutual musical heroes, Horace Silver, with the swinging support of Gabriel Latchin on piano, Adam King on double bass and Matt Home on drums.LINE UP:
David Rubel - tenor saxophone
Nat Steele - vibraharp
Gabriel Latchin - piano
Adam King - bass
Matt Home - drums
"We haven't had anything like this in New York for over twenty years". Wynton Marsalis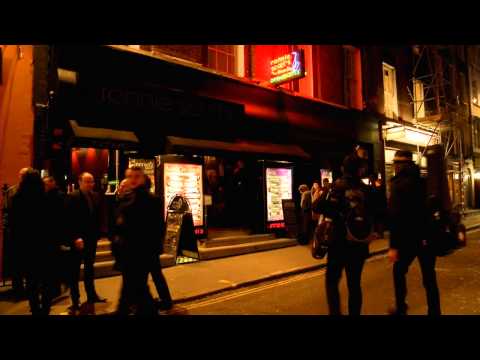 The Ronnie Scott's Late Late Show!
MONDAY - THURSDAY 11pm-3am
FRIDAY - SATURDAY 1am-3am
PREBOOKING AVAILABLE MON TO THURS only
£10 in advance, £12 on the door, £6 Students (with ID), FREE entry to MU, Club members and main show ticket holders
In 1959, saxophonist Ronnie Scott opened the door to a small basement club in London's west end where local musicians could jam. Today, it is one of the world's most famous jazz clubs attracting packed houses and the biggest names in jazz and popular music and Ronnie Scott's welcoming, stylish setting is also home to London's coolest late night hang.
Each night Monday to Saturday, after the main act, Ronnie Scott's presents the Late Late Show, where some of the UK's finest jazz talents take to the stage for a late night blowing session.
NAT STEELE
Nathaniel Steele is a young jazz vibes player based in London. Since his recent arrival on the scene, he has quickly gained a reputation as a cutting-edge virtuoso on the instrument. Following in the footsteps of Milt Jackson, Victor Feldman and Cal Tjader, his playing is lyrical, melodic and harmonically adventurous, but always with a focus on driving swing.

His quartet is regularly featured on the Late, Late show at Ronnie Scott's and as a result he has recently attracted compliments for his playing from the likes of Benny Green, Joe Locke, Jason Marsalis, Harold Mabern and Eric Alexander, has studied with Mike LeDonne and had the good fortune to sit in with both Benny Green and Wynton Marsalis.

His quartet have been playing together regularly for the past 3 years, developing a close and exciting musical rapport based around a shared obsession with swinging bebop, hardbop and mainstream jazz. Their repertoire is loosely based on the pad that Milt Jackson was touring with during the '90s and includes Cedar Walton and Mike LeDonne tunes, with a fair sprinkling of the quartet's own arrangements of standards and blues.
More...
Coming from a musical family, it's hardly surprising that Nathaniel became a professional musician himself. Both his parents compose, play and teach music for a living and his older brother is a professional double bassist active on the London scene.


Born in 1985, he grew up in Oxford and Reading, his introduction to regular performance being as a chorister in New College Choir (he was on their CD Agnus Dei, which was one of the best selling classical albums at the time it was released). His first instrument was violin, which he studied as a child for about 8 years, and experimented with clarinet, piano, Javanese Gamelan, drums and Cuban percussion before finally settling on vibraphone and drums in his late teens. His interest in jazz was brought about through rifling through his father's record collection as a child, and then later going to see American greats like Cedar Walton, James Moody, Monty Alexander, Joe Locke and so on performing at Ronnie Scott's while he was still only 13 or 14. He is largely self taught (although early on he had a few lessons with Anthony Kerr and Roger Beaujolais), learning directly from the masters on the records and other musicians on the scene, and he has attended masterclasses by Barry Harris, John Pattituci and Billy Cobham.

As a drummer and vibes player he's performed with most of the names on the London jazz scene, including on the opening gig of the London Jazz Festival with Pete King and Henry Armburg Jennings; Christian Brewer, Atila, Bobby Wellins, Steve Kaldestad, Nigel Price, Marie Murphy, Steve Fishwick, Alex Garnett, Matt Wates, Mike Gorman, Gareth Lockrane, Dave Cliff, Simon Woolf, John Pearce, Dave Newton, Gabriel Latchin, Josh Morrison, Tim Lapthorn, Clark Tracey, Matt Ridley, Sammy Mayne, Martin Hathaway, Ross Stanley, Mark Crooks, Olly Wilby, Geoff Gascoyne, Colin Oxley, Roger Beaujolais, Simon Thorpe, Richard Busceiwicz, Steve Brown, Matt Home, Leon Greening, Graham Harvey, Dave Warren, Alec Dankworth, Matt Skelton, Allison Neale, Gary Kavanagh, Dave Chamberlain, Julian Bury, and with visiting American artists Hod O'Brien, Greg Abate and Joyce Breach.


His playing on the vibraphone is strongly influenced by the great masters of the instrument: Milt Jackson, Cal Tjader, Dave Pike, Victor Feldman, among many others, and by other innovative figures like Charlie Parker, Sonny Rollins and Bud Powell. Unusually for a contemporary vibraphonist, he tends to play with two rather than four mallets, thus treating the vibes as the front line instrument rather than the more common approach of using it as a chordal instrument to replace guitar or piano. This also means that the quartet is in the classic format of 'piano trio + soloist', providing a solid, swinging rhythm section which allows him to focus soley on exploring the melodic possibilities of the instrument.

He plays on a vintage 1964 Deagan Aurora II Vibraharp (the same model used by Cal Tjader, Milt Jackson and Terry Gibbs) and uses Albright 'Milt Jackson' model mallets.