Booking now closed, a few tickets still left on the door.
These Shows Are Part Of The Ronnie Scott's #JAZZMASTERS SERIES
Terence Blanchard – trumpet, Charles Altura – guitar, Fabian Almazan – piano, David Ginyard, Jr. – bass, Oscar Seaton - drums
TERENCE BLANCHARD'S E-COLLECTIVE will explore various areas, centered around jazz, but also including various elements of blues, R&B, funk and fusion. Taking the unusual and inno-vative approach of abandoning the traditional "soloist/accompaniment" demarcation of straight-ahead jazz and the E-COLLECTIVE will instead feature opportunities for continuous improvisation by every member of the band. The individual solos are more prominent, but never over- whelm the music's collective approach. At the onset, the band's music will feature a free, extended improvisation- al method (similar to Miles Davis's Bitches Brew-period work), but will pull itself towards the groove and pre-structured forms.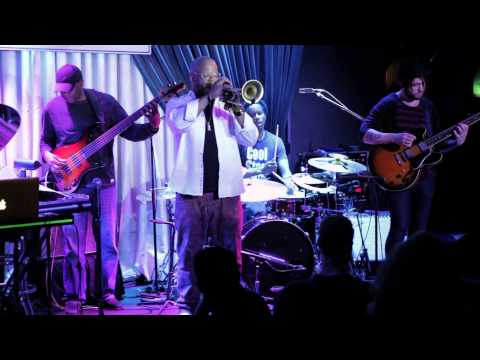 The E-COLLECTIVE will feature a tight rhythm and blues-oriented rhythm section composed of Donald Ramsey (bass) and Oscar Seaton (drums), and the music will have a relaxed, funky groove with Charles Altura (gui- tar) and Taylor Eigsti (keyboard, piano, synths) that will give the band an appeal to a far wider audience. Perhaps a defining moment of Terence Blanchard's career, the E-COLLECTIVE will make jazz listeners out of rhythm and blues fans, and vice versa.

With more than 29 albums and multiple Grammy Awards and nominations to his credit as a musician, jazz trumpeter Terence Blanchard is perhaps even more widely recognized for his work as a composer for film. Director Spike Lee first took note of his performances on the scores for Do the Right Thing and Mo' Better Blues, and subsequently hired Blanchard to compose the score for each of his films since 1991, including Jungle Fever, Malcolm X, Clockers, Summer of Sam, and Inside Man. A New Orleans native, Terence also composed the score for Lee's When the Levees Broke: A Requiem in Four Acts, an HBO documentary special about Hurricane Katrina. In addition to his extensive film work, the trumpeter and bandleader has maintained a long and successful career as a live performer. When Wynton Marsalis left Art Blakey's Jazz Messengers in 1982, Blanchard succeeded him and stayed with the band until 1986. Blanchard's most popular CD is Let's Get Lost, which features his quintet along with top jazz vocalists Diana Krall, Jane Monheit, Dianne Reeves, and Cassandra Wilson.
Support: The Ronnie Scotts All Stars
+ support tonight: The Ronnie Scotts All Stars with Special Guest vocalists Emma Smith (Mon) and Natalie Williams (Tues)
Monday's band line up: Alex Garnett (tenor sax), James Pearson (piano), Sam Burgess (bass) and Ed Richardson (drums).
Tuesday's band line up: is Alex Garnett (tenor sax), James Pearson (piano), Sam Burgess (bass) and Chris Higginbottom
The Ronnie Scott's All Stars are comprised of some of the greatest talents on the U.K scene, including some of our most regular performers James Pearson (piano), Sam Burgess (bass) and Pedro Segundo (drums)
James Pearson:-
Musical Director at Ronnie Scott's and the owner of a ferocious piano technique coupled with a sense of musicality rarely heard, James Pearson is one of the most exciting musicians to have emerged from the U.K in the last 25 years. After working with him, the late jazz legend Sir John Dankworth declared: "James Pearson is an exceptionally gifted artist. His masterful playing makes him head and shoulders above the rest of his contemporaries. He shows signs of true greatness".
Sam Burgess:-
Double Bass Despite only being in his early 30's, already Sam is a stalwart of the UK jazz scene. As well as appearing on numerous film soundtracks such as 'Bridget Jones's Diary' and 'Hannibal'. Sam's thumping, pounding, relentlessly driving bass lines have been heard accompanying the likes of Bob James, Billy Kilson, Gary Novak, Joe Lock, Dave Kekowski, Guy Barker, Dave O'Higgins, Pete King, Gareth Williams, Claire Martin, Jim Mullen, Alan Barnes, Tim Whitehead, John Horler, Gwyneth Herbert, John Dankworth, The BBC Big Band and Robbie Williams.
Pedro Segundo:-
At 22 years old Pedro Segundo, Portuguese drummer joins the James Pearson Trio at Ronnie Scott's Jazz Club.
Born and raised in Lisbon, picked up the drums seriously at the age of eight starting studying classical percussion a year later. In June 2011 he graduates from Guildhall School of Music and Drama in Timpani and Classical Percussion. His musical ability combines a blend of styles creating a unique sound on the drum set. He has played regularly with Dennis Rollins, Femi Temowo, Mário Franco, Cleveland Watkiss and many other artists touring in festivals all around the globe.
Other regular performers include:
Dave Ohm (drums), Natalie Williams (vocals), Alex Garnett (sax), Nigel Price (guitar), Steve Rushton (drums), Polly Gibbons (vocals), Alistair White (trombone), Gary Baldwin (hammond), Al Cherry (guitar), Matt Home (drums), Alan Barnes (sax), Ralph Salmins (drums), Arnie Somogyi (bass), Mark Smith (bass), James Nisbet (guitar), Pete Long (sax), Gerard Presencer (Trumpet), Dave O'Higgins (sax), Alec Dankworth (bass), Steve Fishwick (trumpet) and others...
To find out more, please go to:
www.myspace.com/thejamespearsontrio