Booking now closed, a few tickets still left on the door.
Line up confirmed: CLAIRE MARTIN on vocals, JAMES PEARSON on piano, JEREMY BROWN on bass, MATT SKELTON on drums, JON SHENOY on saxophones, CALLUM AU on trombone, HUGH WEBB on harp, JOHN MILLS on violin, JEREMY ISAAC on violin, LYDIA LOWNDES-NORTHCOTT on viola & BOZIDAR VUKOTIC on cello
….."Martin, who has always cited Ella Fitzgerald and Shirley Horn as major influences, can rightfully claim a place at their table". - THE JAZZ TIMES
…."World class, the most gifted singer this country has produced in 20 years". - THE TIMES
Claire Martin OBE has been a tour de force on the UK jazz scene for the past 30 years. Described by Jazz Times USA as 'one of the four or five finest female vocalists on the planet', Claire returns to Ronnie Scott's with a stellar line up of world class musicians to celebrate the music of one of her biggest influences the singer/pianist Shirley Horn.
With pianist & Ronnie Scott's Artistic Director James Pearson leading the quintet which features Callum Au on trombone, Jon Shenoy on saxophones, Jeremy Brown on bass

and group founder Matt Skelton on drums, Claire is delighted to be joined by the celebrated Tippett Quartet and harpist extraordinaire Hugh Webb.

Featuring arrangements by Tommy Laurence of Shirley Horn's classic album 'Here's To Life' - this promises to be a sumptuous evening of classy, much loved standards and unbridled romance.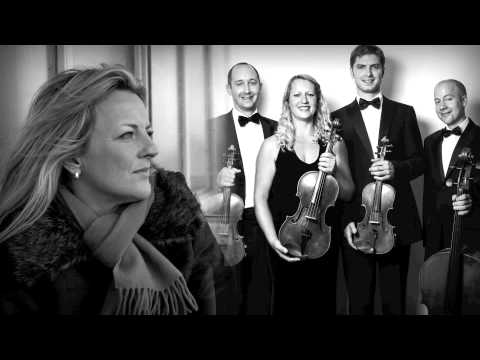 Full Biography
Linn recording artist and BBC Radio 3 presenter Claire Martin has spent the last 27 years honing the craft of jazz singing. To worldwide critical acclaim she has established herself as a tour de force on the UK jazz scene gaining many awards, including winning the British Jazz Awards six times, along the way.
Thanks to her jazz-loving parents, Claire grew up in a household full of great music. She became a professional singer at 19 and three years later she realised her dream of singing at Ronnie Scott's legendary jazz club in Soho. Signed to Linn Records in 1984, Claire has since released 15 CDs with the label, collaborating with musical luminaries including Martin Taylor, John Martyn, Stephane Grappelli, Mark Nightingale, Sir Richard Rodney Bennett, Jim Mullen and Nigel Hitchcock on many of these recordings.
Claire has performed all over Europe and Asia with her trio and, until his death in 2012, with Sir Richard Rodney Bennett in an intimate cabaret duo setting both in England and in America where they played to sell out crowds at venues including the prestigious Algonquin Hotel in New York City. Claire is also a featured soloist with the Halle Orchestra, the Royal Liverpool Philharmonic Orchestra, the RTE Concert Orchestra, the BBC Big Band and the BBC Concert Orchestra. She has co-presented BBC Radio 3's Jazz Line Up since 2000 and has interviewed many of her musical heroes such as Pat Metheny, the late Michael Brecker, Brad Mehldau and Roy Hargrove. Her 2009 CD A Modern Art prompted Jazz Times USA to claim: "She ranks among the four or five finest female jazz vocalists on the planet".
Claire was thrilled to win both the 2009 and 2010 'Best Vocalist' category at the British Jazz Awards and toured extensively throughout the UK, Scandinavia, Russia and China, appearing with the Royal Liverpool Philharmonic and her world-class trio. 2011 proved to be an extraordinary year for Claire who made her debut at the Lincoln Center with pianist Bill Charlap and went on to perform for the third time at the Algonquin Hotel for a three week residency with Sir Richard Rodney Bennett. Their CD Witchcraft gained much critical acclaim and was "unequivocally recommended" by Jazzwise magazine. At the Queen's Birthday Honours in June, Claire was awarded an OBE for her Services to Jazz.
In August 2011 Claire recorded with legendary jazz pianist Kenny Barron and an all-star American line up for her fifteenth album for Linn records. Too Much in Love to Care received 5 star reviews and prompted Jazz Journal to state that she is "one of the finest jazz singers in the world today". The album went on to win the 'Best New Recording' award at the 2012 British Jazz Awards. 2013 was spent touring the new material in the UK and Europe and embarking on a new show The Two of Us with conductor John Wilson, Joe Stilgoe, Mark McGann and the Royal Liverpool Philharmonic, celebrating the music of Paul McCartney and John Lennon.
Claire has recently embarked on a new and exciting musical adventure with The Montpellier Cello Quartet. With new arrangements by Sir Richard Rodney Bennett, Mark Anthony Turnage and Django Bates, this new chamber jazz ensemble will be touring throughout 2014 and recording later this year. A highlight of her new cabaret duo with Joe Stilgoe will be a performance at Wigmore Hall in December.
Support: The Ronnie Scotts All Stars
+ support tonight: The Ronnie Scotts All Stars with Special Guest vocalists Emma Smith (Mon) and Natalie Williams (Tues)
Monday's band line up: Alex Garnett (tenor sax), James Pearson (piano), Sam Burgess (bass) and Ed Richardson (drums).
Tuesday's band line up: is Alex Garnett (tenor sax), James Pearson (piano), Sam Burgess (bass) and Chris Higginbottom
The Ronnie Scott's All Stars are comprised of some of the greatest talents on the U.K scene, including some of our most regular performers James Pearson (piano), Sam Burgess (bass) and Pedro Segundo (drums)
James Pearson:-
Musical Director at Ronnie Scott's and the owner of a ferocious piano technique coupled with a sense of musicality rarely heard, James Pearson is one of the most exciting musicians to have emerged from the U.K in the last 25 years. After working with him, the late jazz legend Sir John Dankworth declared: "James Pearson is an exceptionally gifted artist. His masterful playing makes him head and shoulders above the rest of his contemporaries. He shows signs of true greatness".
Sam Burgess:-
Double Bass Despite only being in his early 30's, already Sam is a stalwart of the UK jazz scene. As well as appearing on numerous film soundtracks such as 'Bridget Jones's Diary' and 'Hannibal'. Sam's thumping, pounding, relentlessly driving bass lines have been heard accompanying the likes of Bob James, Billy Kilson, Gary Novak, Joe Lock, Dave Kekowski, Guy Barker, Dave O'Higgins, Pete King, Gareth Williams, Claire Martin, Jim Mullen, Alan Barnes, Tim Whitehead, John Horler, Gwyneth Herbert, John Dankworth, The BBC Big Band and Robbie Williams.
Pedro Segundo:-
At 22 years old Pedro Segundo, Portuguese drummer joins the James Pearson Trio at Ronnie Scott's Jazz Club.
Born and raised in Lisbon, picked up the drums seriously at the age of eight starting studying classical percussion a year later. In June 2011 he graduates from Guildhall School of Music and Drama in Timpani and Classical Percussion. His musical ability combines a blend of styles creating a unique sound on the drum set. He has played regularly with Dennis Rollins, Femi Temowo, Mário Franco, Cleveland Watkiss and many other artists touring in festivals all around the globe.
Other regular performers include:
Dave Ohm (drums), Natalie Williams (vocals), Alex Garnett (sax), Nigel Price (guitar), Steve Rushton (drums), Polly Gibbons (vocals), Alistair White (trombone), Gary Baldwin (hammond), Al Cherry (guitar), Matt Home (drums), Alan Barnes (sax), Ralph Salmins (drums), Arnie Somogyi (bass), Mark Smith (bass), James Nisbet (guitar), Pete Long (sax), Gerard Presencer (Trumpet), Dave O'Higgins (sax), Alec Dankworth (bass), Steve Fishwick (trumpet) and others...
To find out more, please go to:
www.myspace.com/thejamespearsontrio