Late Late show tonight is hosted by Liam Noble on the Piano and his TRIO Featuring Michael Janisch (Bass), Andrew Bain (Drums)
Click The Video Below For A Taster Of The Late Late Show (actual band on the night varies!)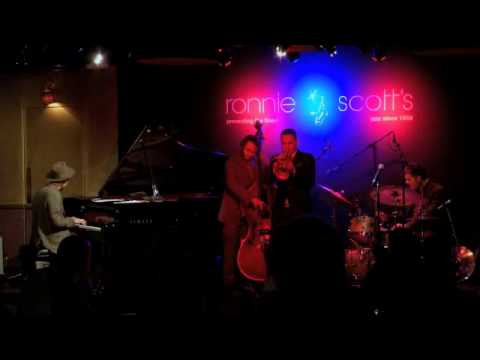 "We haven't had anything like this in New York for over twenty years". Wynton Marsalis

The Ronnie Scott's Late Late Show!

MONDAY - THURSDAY 11pm-3am
FRIDAY - SATURDAY 1am-3am

ENTRY ON THE DOOR (NO PREBOOKING)

£10 Entry, £5 Students (with ID), FREE entry to MU, Club members and main show ticket holders

In 1959, saxophonist Ronnie Scott opened the door to a small basement club in London's west end where local musicians could jam. Today, it is one of the world's most famous jazz clubs attracting packed houses and the biggest names in jazz and popular music and Ronnie Scott's welcoming, stylish setting is also home to London's coolest late night hang.

Each night Monday to Saturday, after the main act, Ronnie Scott's presents the Late Late Show, where some of the UK's finest jazz talents take to the stage for a late night blowing session.
ABOUT LIAM NOBLE
After studying music at Oxford University and the postgraduate course at the Guildhall, Noble became the regular pianist with Stan Sulzmann (in both duo and quartet settings) on John Taylor's recommendation. He went on to work in the bands of Anita Wardell, Harry Beckett, Tim Whitehead and John Stevens as well as recording and touring with cult minimalist composer Moondog. During this period, he also performed with John Taylor (as part of Stan Sulzmann's two piano quintet), Kenny Wheeler and Lol Coxhill.

Three years after leaving the Guildhall, Noble recorded the solo piano album "Close Your Eyes", which featured free improvisations, compositions and interpretations of tunes by (amongst others) Ornette Coleman, Annette Peacock and Richard Rodgers.

In Jazz Journal, Richard Palmer referred to him as "…a writer of considerable idiomatic and emotional range …he knows the instrument's pantheon from Tatum to Taylor…"

In 1997, he joined the Bobby Wellins Quartet, a band that combines a standard repertoire with a contemporary sense of interaction. A CD, "The Best is Yet to Come" is available on Jazzizit Records. He is also a member of the Christine Tobin Band and the Randy Brecker English Sextet, with whom he recently performed at Cheltenham Festival. A duo project with Paul Clarvis playing music from West Side Story combines well-known material with a "stream of consciousness" improvisatory angle.

In April 2002, a commission from Birmingham Jazz resulted in a song cycle based on Japanese Death Poetry featuring the contrasting voices of Kelsey Michael (vocalist with the High Llammas) and Christine Tobin, with Dave Wickins and Chris Biscoe. Noble plays keyboards and samples throughout, marking a new foray into electronica inspired by artists such as Aphex Twin and Arto Lindsay. He is also a regular member of the Julian Siegel Group and appears on Siegel's much acclaimed recent album " Close Up " (mactwo).

In his new album, "In the Meantime" on Basho Records, Noble's compositions are highly individual, quirky, sometimes humorous or intensely lyrical and demonstrate his continuing interest in combining unorthodox structural design with improvisation using an ensemble of highly contrasting players. Focusing on the multi-reed front line of Stan Sulzmann and Chris Biscoe (on the rarely heard alto clarinet), the rhythm section features Paul Clarvis and Mick Hutton. Four years of gigging have established a symbiotic relationship between written and improvised material, and an almost orchestral use of colour & space. Influenced by "downtown" New Yorkers such as Wayne Horvitz and Bill Frisell, the compositions also reflect an interest in longer forms derived from studying Stravinsky and other classical composers.

In 2004, following a Cheltenham Festival gig the previous year, Liam recorded the acclaimed "Romance Among The Fishes" on Basho Records with guitarist Phil Robson and the New York rhythm section of Drew Gress and Tom Rainey on bass and drums respectively. Cadence magazine gave a glowing review, saying:

"…his compositions….manage to pack quite a number of striking ideas into the ten titles, of which no two were alike… In this day and age of Jazz retreads, it's refreshing to encounter a genuinely original voice.
"

Liam's working relationship has continued with Tom Rainey in the free improv trio, "Sleepthief" with Ingrid Laubrock, with an album released in September 2008 on Intakt Records. The duo of Laubrock and Noble, "Let's Call This…" came out on Babel records in 2007.

Other new and upcoming projects include "Too Young To Go Steady", the new Tim Whitehead recording, a project with Colin Riley and Tim's Homemade Orchestra featuring Children's Poet Laureate Michael Rosen, a new Christine Tobin album "Secret Life Of A Girl" and a forthcoming project with Mark Lockheart's new group.

Liam holds posts as Lecturer in Jazz at Birmingham Conservatoire and Trinity College of Music. He has published 4 volumes of transcriptions of the Bill Evans Trio, and "Jazz Piano; An In Depth Look at the Styles of the Masters", both published by Hal Leonard.