Booking now closed, a few tickets still left on the door.
"Their explosive live shows have become legendary" Montreux Jazz Festival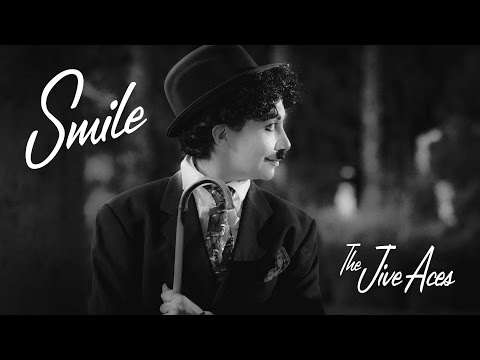 "Absolutely Brilliant! That really put me in a good mood." – Simon Cowell
"A Ray of Sunshine! I loved The Jive Aces." – Alesha Dixon
"Infectious, uplifting and marvelous!" – Len Goodman
"The acclaimed, energetic, swing music stage show." – The Guardian
The Jive Aces – Sunshine Tour

The Jive Aces are the UK's No.1 Jive & Swing band. They feature songs made famous by greats like Louis Prima, Bobby Darin, Big Joe Turner and Sammy Davis Jr as well as some superb originals. An incredibly in demand sextet, they have worked with John Travolta, Van Morrison, The Proclaimers, Keely Smith and have performed for HRH Prince Philip.
The Jive Aces headlined (and sold-out) the first ever swing dance at the Royal Albert Hall and have bought the house down with their high energy stage show at thousands of festivals, theatres, dancehalls and top events throughout Britain, Europe, USA and beyond, over 30 countries in all. They have also made hundreds of TV and radio appearances including, recently, a residency on BBC Radio London and TV appearances on "Louis Spence's Showbusiness", "Come Dine With Me" and "Good Morning Los Angeles".
In 2012 the band were semi-finalists on "Britain's Got Talent", performing show-stopping versions of Jungle Book favourites "I Wanna Be Like You" and "Bare Necessities" wowing BGT judges Simon Cowell, David Walliams and Alesha Dixon, who said "You are so joyful to watch, every single one of you. That was world class".
Their music video, "Bring Me Sunshine", has become a viral hit with nearly 2 million views on Youtube and has won a Telly Award as well as a number of film festival awards.
More kudos for the Jive Aces:
"100% Yes. I like you guys." Simon Cowell
"I loved The Jive Aces. They were fun and carefree… so joyful to watch. They really put us in a good mood. World class!" Alesha Dixon - BGT
"Their enthusiasm and their talent are obvious when you listen to their music; it's infectious, uplifting and a marvelous reminder of the era of jiving and swing."
Len Goodman – Strictly Come Dancing & Dancing With the Stars
"It was a lot of fun and I loved it. 101% yes." David Walliams - BGT
"The Jive Aces manage great freshness yet maintain an authentic accurate sound. Simply sensational!" The Stage
"You lifted everyone's spirits tonight" Amanda Holden - BGT
"Back by popular demand for an incredible fifth year, their explosive live shows have become legendary" Montreux Jazz Festival
"Musically brilliant, great to listen to, the arrangements of the covers are superb." BBC Radio 2
"Jive Aces rocked us, literally. If they were playing at any event they would raise the roof with their quirky banana suits and energetic moves" Dean "Midas" Maynard - Huffington Post
"Hugely charismatic performers and consummate showmen. *****" Edinburgh Spotlight
"These guys know how to entertain and make their music relevant and contemporary. This music is timeless because it makes you feel good and gets to your rhythm bone. This CD has stayed on my system since I received it. Quality jump, jive and boogie." Jazz Journal
The Jive Aces are:
Ian Clarkson - Lead Vocals & Trumpet
"Big" John Fordham - Tenor Sax, Baritone Sax, Clarinet
Alex Douglas - Trombone
Vince "Professor" Hurley - Piano
Ken Smith - Double Bass
Peter "Bilky" Howell - Drums