Booking now closed, a few tickets still left on the door.

These Shows Are Part Of The Ronnie Scott's #JAZZMASTERS SERIES
Dee Dee Bridgewater, Theo Croker, trumpet, Michael King, piano, Kassa Overall, drums, Anthony Ware, sax and flute, Eric Wheeler, bass
Dee Dee Bridgewater live is a fantastic live performer. One of today's leading female jazz vocal stars, she has worked with all the great instrumentalists, counting Sonny Rollins, Dizzy Gillespie, Dexter Gordon, Max Roach and Roland Kirk among her list of past collaborators. Her landmark portrayal of Billie Holiday in stage show 'Lady Day' saw her nominated for an Olivier Award. Two Grammy Awards later, she's still going strong. "Dee Dee Bridgewater has a technique and musicality that bests most performers of her generation," declared The Guardian in a recent 4* review, "and her understanding of the "great American songbook" makes pretenders pale in comparison."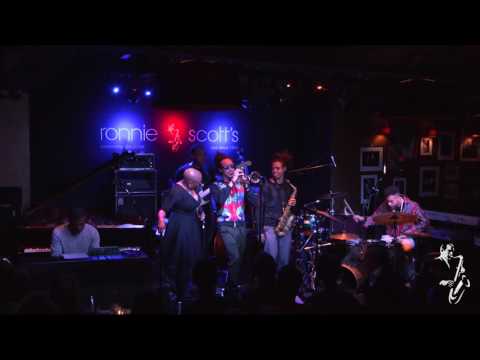 BIOGRAPHY
FEW ENTERTAINERS have ever commanded such depth of artistry in every medium. Fewer still have been rewarded with Broadway's coveted Tony Award (Best Featured Actress in a Musical – The Wiz), nominated for the London theater's West End equivalent, the Laurence Oliver Award (Best Actress in a Musical – Lady Day), won three Grammy® Awards (2011's Best Jazz Vocal Album for "Eleanora Fagan: To Billie with Love from Dee Dee Bridgewater", 1998's Best Jazz Vocal Performance and Best Arrangement Accompanying a Vocal for "Cottontail" – Slide Hampton, arranger – "Dear Ella "), and France's 1998 top honor Victoire de la Musique (Best Jazz Vocal Album).
DEE DEE CAPTURED THE HEARTS of audiences worldwide in The Wiz with her signature song, If You Believe. According to Nick Ashford of Ashford and Simpson, Dee Dee's rendition "personified a generation and gave us all hope."
AS A SPARKLING AMBASSADOR FOR JAZZ, she bathed in its music before she could walk. Her mother played the greatest albums of Ella Fitzgerald, whose artistry provided an inspiration for Dee Dee throughout her career. Her father was a trumpeter who taught music – to Booker Little, Charles Lloyd and George Coleman, among others. It is the kind of background that leaves its mark on an adolescent, especially one who appeared solo and with a trio as soon as she was able. Dee Dee's other vocation, that of globetrotter, reared its head when she toured the Soviet Union in 1969 with the University of Illinois Big Band. A year later, she followed her then husband, Cecil Bridgewater, to New York.
DEE DEE MADE HER PHENOMENAL NEW YORK DEBUT in 1970 as the lead vocalist for the band led by Thad Jones and Mel Lewis, one of the premier jazz orchestras of the time. These New York years marked an early career in concerts and on recordings with such giants as Sonny Rollins, Dizzy Gillespie, Dexter Gordon, Max Roach and Roland Kirk, and rich experiences with Norman Connors, Stanley Clarke and Frank Foster's "Loud Minority."
DEE DEE DOESN'T CARE MUCH FOR LABELS, and in 1974 she jumped at the chance to act and sing on Broadway where her voice, beauty and stage presence won her great success and a Tony Award for her role as Glinda the Good Witch in The Wiz. This began a long line of awards and accolades as well as opportunities to work in Tokyo, Los Angeles, Paris and in London where she garnered the coveted "Laurence Olivier" Award nomination as Best Actress for her tour de force portrayal of jazz legend Billie Holiday in Stephen Stahl's Lady Day. Performing the lead in equally demanding acting/singing roles as Sophisticated Ladies, Cosmopolitan Greetings, Black Ballad, Carmen Jazz and the musical Cabaret (the first black actress to star as Sally Bowles), she secured her reputation as a consummate entertainer.
NAMED AMBASSADOR TO THE UNITED NATIONS' FOOD AND AGRICULTURE ORGANIZATION (FAO) in October 1999, Dee Dee joined the battle against world hunger. Appealing for international solidarity to finance global grass-roots projects, the FAO's Ambassadors aid in developing self-reliance in long-term conservation and management of sustainable agriculture, rural development and the conservation and management of natural resources.
TAKING OVER THE REIGNS OF JAZZSET FROM THE ILLUSTRIOUS BRANFORD MARSALIS, Dee Dee brought her message to listeners. NPR's JazzSet© with Dee Dee Bridgewater is the jazz lover's ears and eyes on the world of live music. It presents today's best jazz artists in performance on stages around the world, taking listeners to Puerto Rico and Cuba, as well as Marciac in the French countryside and across the North American continent from Montreal to Monterey.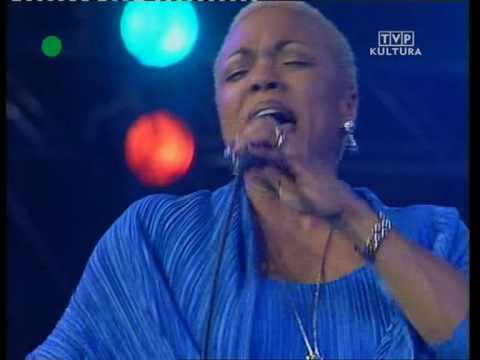 Support: The Ronnie Scotts All Stars
+ support tonight: The Ronnie Scotts All Stars with Special Guest vocalists Emma Smith (Mon) and Natalie Williams (Tues)
Monday's band line up: Alex Garnett (tenor sax), James Pearson (piano), Sam Burgess (bass) and Ed Richardson (drums).
Tuesday's band line up: is Alex Garnett (tenor sax), James Pearson (piano), Sam Burgess (bass) and Chris Higginbottom
The Ronnie Scott's All Stars are comprised of some of the greatest talents on the U.K scene, including some of our most regular performers James Pearson (piano), Sam Burgess (bass) and Pedro Segundo (drums)
James Pearson:-
Musical Director at Ronnie Scott's and the owner of a ferocious piano technique coupled with a sense of musicality rarely heard, James Pearson is one of the most exciting musicians to have emerged from the U.K in the last 25 years. After working with him, the late jazz legend Sir John Dankworth declared: "James Pearson is an exceptionally gifted artist. His masterful playing makes him head and shoulders above the rest of his contemporaries. He shows signs of true greatness".
Sam Burgess:-
Double Bass Despite only being in his early 30's, already Sam is a stalwart of the UK jazz scene. As well as appearing on numerous film soundtracks such as 'Bridget Jones's Diary' and 'Hannibal'. Sam's thumping, pounding, relentlessly driving bass lines have been heard accompanying the likes of Bob James, Billy Kilson, Gary Novak, Joe Lock, Dave Kekowski, Guy Barker, Dave O'Higgins, Pete King, Gareth Williams, Claire Martin, Jim Mullen, Alan Barnes, Tim Whitehead, John Horler, Gwyneth Herbert, John Dankworth, The BBC Big Band and Robbie Williams.
Pedro Segundo:-
At 22 years old Pedro Segundo, Portuguese drummer joins the James Pearson Trio at Ronnie Scott's Jazz Club.
Born and raised in Lisbon, picked up the drums seriously at the age of eight starting studying classical percussion a year later. In June 2011 he graduates from Guildhall School of Music and Drama in Timpani and Classical Percussion. His musical ability combines a blend of styles creating a unique sound on the drum set. He has played regularly with Dennis Rollins, Femi Temowo, Mário Franco, Cleveland Watkiss and many other artists touring in festivals all around the globe.
Other regular performers include:
Dave Ohm (drums), Natalie Williams (vocals), Alex Garnett (sax), Nigel Price (guitar), Steve Rushton (drums), Polly Gibbons (vocals), Alistair White (trombone), Gary Baldwin (hammond), Al Cherry (guitar), Matt Home (drums), Alan Barnes (sax), Ralph Salmins (drums), Arnie Somogyi (bass), Mark Smith (bass), James Nisbet (guitar), Pete Long (sax), Gerard Presencer (Trumpet), Dave O'Higgins (sax), Alec Dankworth (bass), Steve Fishwick (trumpet) and others...
To find out more, please go to:
www.myspace.com/thejamespearsontrio